Istanbul Conquest Day celebrations customarily involve spectacular audio and lighting productions on a grand scale. Key to handling the sound for the recent celebration was a Waves eMotion LV1 Live Mixer, helmed by FOH engineer Tayfun Oksuz (Sertap Erener, Athena and Sebnem Ferah).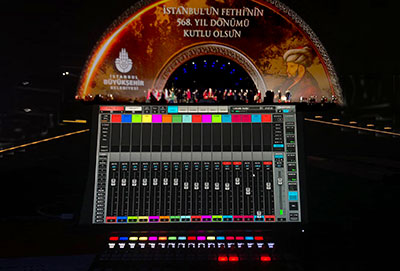 'I am used to working with plug-ins in live events, so when I heard that eMotion LV1 was a very natural platform for running Waves plug-ins live, I immediately wanted to check it out,' he explains. 'I was hugely impressed with the mixer's sound quality – in this specific show, my FOH position was 40m away from the PA, and I could distinctly hear every single detail of my mix.'
He quotes LV1's fast set-up is a further benefit: 'You can load your LV1 system in ten minutes, and you're all set,' he says; 'You can start the concert within 30 minutes, including all system settings. What's also great is the super-flexible offline prep ability; I can work at home, on a tour bus or in a hotel room, and get my show perfectly prepped. In addition, I can take the Waves plug-ins used in studio recordings and put them in my LV1 system, and the quality stays the same.
'There is also an incredible technical team behind you at Waves – I can call them from Turkey, and they answer all my questions instantly.
For this show, Oksuz used all of the LV1's 64 stereo channels: 'This complex production started with various speeches and continued with two different orchestras: the Mehtran Bolugu Turkish Ancient Army Orchestra, which has a 2,100-year history and uses a wide assortment of musical instruments, both ancient and modern – from Turkish Iron Age percussion, to the ancient Persian Kus [a war drum, originally elephant-mounted, that produces 50Hz notes and below], to modern trumpets and cymbals accompanying a choir; and a symphonic orchestra led by famous Turkish composer/producer Iskender Paydas; plus drums, electric bass, guitar, a lead singer, a choir, and additional pre-recorded tracks triggered from Pro Tools. All the live music, speeches, video sounds and jingles were mixed on the LV1 for the PA, and then sent to the broadcast mixer (two channels) from the LV1's matrix-out, and the broadcast stream used the same mix.'
The Waves plug-ins integrated within the eMotion LV1 were essential to mixing all these diverse elements: 'My favourites are the H-EQ Hybrid Equalizer, Torque, the F6 Floating-Band Dynamic EQ, Bass Rider, Vocal Rider and the S1 Stereo Imager,' Oksuz says. 'Other must-have plug-ins include the NLS Non-Linear Summer, which I had on all 64 channels and all 24 subgroups, using the different characteristics of each of the plug-in's mix-preamps. And I always use Smack Attack and V-EQ4 on kick, snare and toms. These two plug-ins enable me to attain the genuine acoustic tones of the drums and percussion by using minor tweaking.'
For vocals, the H-Reverb Hybrid Reverb is also a favourite: 'It allows me to accentuate very soft and distinctive features of the artist's vocal characteristics. The Renaissance Axx and the Q10 Equalizer are perfect for processing guitars. TheC6 Multiband Compressor, API 2500 compressor and the L1 Ultramaximizer are absolutely amazing when used on my main master and subgroups: they bring out all the essential elements of my mix. For tuning my PA system, I use Smaart v8 and Waves' TRACT System Calibration plug-in.'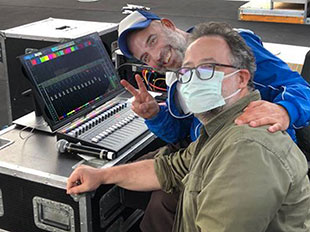 Oksuz's set-up includes a 24-inch touchscreen, a Waves FIT Controller for tactile control of eMotion LV1, an Axis One Waves-optimised computer, a Waves SoundGrid Extreme Server-C, a DSPro StageGrid 1000 interface at FOH position connected via two Cat7 STP (as a redundant connection, using LAG feature in the managed switch) and two DSPro StageGrid 4000 stageboxes at the stage plugged into L-Acoustics 24 Kudo tops and 16 SB28 subs.
'The LV1 is made with the convenience of an engineer's workflow in mind,' Oksuz says. 'Any auxiliary tool you are looking for is in front of you. It's super-flexible; you can do your job on one screen if you want, or you can set up four screens and see the page you want on each screen – a snapshot on one screen, Mixer 1 on another screen, etc.
'I also like how I can divide my whole mix into eight custom layers, and the availability of user-assignable keys for saving sessions and loading the session flip a/b channel – this procedure is incredibly fast and very useful. Also, I record all my concerts, and at the same time I perform a virtual soundcheck, which speeds up my work significantly. Furthermore, I can comfortably use the fingers of both my hands on the screens simultaneously.
'I've done about 20 concerts with the Waves LV1 so far, and I can say now that its superior sound quality has surpassed all my expectations,' Oksuz reports. 'The overall sound quality of the mix is incredible. I have been working as an FOH engineer for over 32 years and using a digital mixer for the past 16. I've now switched to the Waves eMotion LV1 mixer because I believe in its workflow, technology and scalability, I believe in the future of its system, and I believe in its sound.'