Hosting around 150 events per year – from rock concerts to poetry slams – the 200-capacity Gleis4 cultural centre in Frankenthal, Germany, has become an integral part of the area's cultural scene since opening in 2014.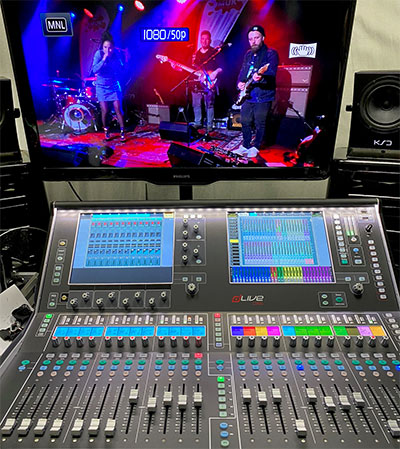 With the coronavirus pandemic curtailing live events, Gleis4 saw the opportunity to expand its activities to include streaming in various formats, allowing the organisation to reach out and provide a programme of cultural content to an audience at home. With the help of the federal government's Neustart Kultur funding scheme, the venue invested in an Allen & Heath dLive mixing system, comprising a C3500 Surface and CDM48 Mixrack, to bring the idea to life.
The venue's dressing rooms were repurposed to become a control room, built around the 24-fader C3500 Surface and a pair of KS Digital studio monitors, while onstage the CDM48's 48 inputs and 24 outputs handle the required analogue I/O for performances. When restrictions lift and audiences can once again attend events at the venue, the C3500 will be moved to the main room and used as the FOH system for live events.
'We currently use the dLive system for streaming live music, conferences and seminars, among other things, but we also plan to use it as an FOH console for our city festival stage, should that take place, depending on the pandemic situation,' explains Gleis4 Technical Manager, Philipp Hahn.
The Gleis4 previously used an older digital mixing console to handle live performances, but the choice of a more up-to-date system was influenced by Hahn's experience as a live engineer. 'I do a lot of live sound work myself, and you see dLive systems more and more often,' he says. 'The opinions about them are consistently positive, and in its price range it's simply the most flexible console. We are very happy with the choice.'
More: www.allen-heath.com