An historical building in the Namibia capital of Windhoek, the Office of the Prime Minister (OPM) houses the first Cabinet Chamber and the Constitution Room, in where most of the country's legislatures were drafted. Here, Stage Audio Works Namibia (SAW) recently installed a sophisticated sound reinforcement and visual display system to improve the meeting experience under the guidance of ICT specialist, Gadgets Namibia Solutions.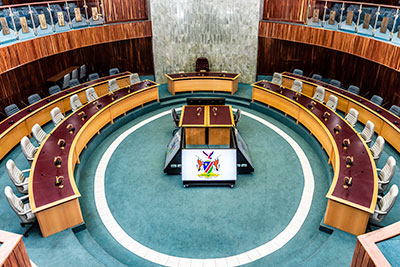 'This was an interesting project as the multilevel and oval shaped seating arrangement made it impossible to implement a traditional projector and screen solution,' explains SAW Namibia's Joppie Maritz. 'Furthermore, we were working in a listed building with a very clear brief to preserve the historic interior finishes, so we had to find clever ways to install our equipment to ensure that it blended in with the minimum amount of disruption to the surroundings.'
In consultation with Gadgets Namibia, SAW provided a comprehensive, custom solution based on Pixel Plus LED screens, a Novastar LED controller, Sennheiser TeamConnect 2 ceiling microphones, Audac loudspeakers and a Taiden digital conference microphone system. Video routing and switching is via Atlona with Q-Sys control for on/off and source selection.
'We opted for LED screens rather than a projector/screen solution as the configuration of the room simply didn't give us any other option,' Maritz says. 'We chose a pixel pitch of 1.83mm for uncompromised visual quality and used custom mounts for the cleanest possible installation.'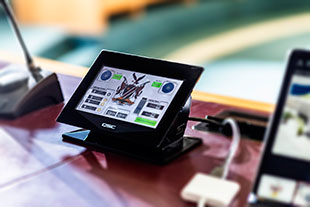 For the audio, SAW installed a Taiden digital conference microphone system for each of the delegates on the lower level. Speech intelligibility for the upper gallery is enhanced with a pair of Sennheiser TT2 ceiling microphones and sound reinforcement overall is handled by eight discreetly mounted Audac WX502 loudspeakers, which are virtually invisible from the lower delegate level. QSC Q-Sys control via an elegantly simple touchscreen handles source selection and powering all active equipment on/off. Multiple motion sensors in the room allow the system to switch itself off when not in use after a predefined period.
'Stage Audio Works designed customised solutions where required that respect the elegance and heritage of the room whilst bringing OPM's Cabinet Chamber into line with modern technical conferencing standards,' says Victor Nzaramba of Gadgets Namibia. 'The Prime Minister and her cabinet can now enjoy the comfort of crystal clear audio and high quality video throughout the room with easy, fingertip control.'
More: www.stageaudioworks.com