Bangalore's boutique audio enterprise, Audio Academy has added an Audient ASP4816 mixing desk to its studio set-up, supporting the professional audio education programmes it offers, as well as commercial recording, music production, sound design and Foley services.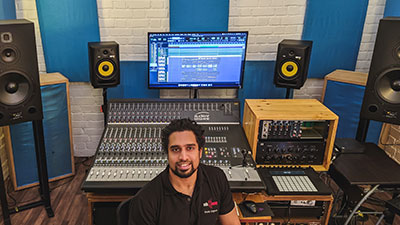 'We were looking for a console that would serve as both a teaching tool and a highly functioning mixer for professional studio bookings,' explains studio manager Gautham Pattani.
Part of a hybrid set-up in the studio, the analogue desk's extensive connectivity options enables it to work easily with the outboard gear and send audio straight to a Pro Tools DAW. 'Our multi-monitor set-up helps reveal every detail in the recording and mixing process. Dedicated hardware controllers, industry standard converters, high quality mic preamps and a selection of microphones help us meet the demands of any project,' Pattani says, referring to the independent musicians, producers and sound artists he works with, as well as his students. 'The console serves as our main monitor controller for all aspects of production. A summing desk while mixing and a preamplification stage while multitrack recording.'
Aside from the fully-featured monitor control offered by the British desk, Pattani also enjoys the parametric EQs, bus compressor and its flexible routing capabilities.
The recording studio and spacious live room adjacent serve music production students working on their commercial assignments – each student is required to complete 100 hours of studio time in order to graduate. Full-time courses come with government-approved diplomas, and students are mentored by certified professionals – Pattani himself is a Dante-certified trainer.
When he's not teaching, Pattani can be found recording bands or mixing sound for films, and reports that his clients are impressed with the new set-up. 'We've had many an accomplished musician marvel at both the quality of our work as well as our unique space,' he says.
A forthcoming project for Academy Audio is the production of a multi-lingual podcast series. 'We also have an upcoming project in the art installation world in collaboration with a sound artist,' Pattani adds.
The ASP4816 was supplied by Audient's local distributor, The Inventory.