Marking the Centenary Celebration of the Communist Party of China (CPC), events took place across China with a large ceremony held at Tiananmen Square in Beijing, which was broadcast worldwide by the China Media Group. This involved the largest network routing and mixing systems from Stagetec to date.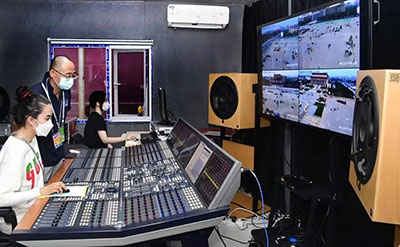 Salzbrenner Stagetec Media Technology (Beijing) Co Ltd – the Chinese distributor for Stagetec – supported the broadcast using 15 Nexus Star routers, 17 Avatus, Aurus and Crescendo mixing console systems, and 67 Nexus Base Devices. Nexus was chosen not only for its high operational reliability, but also because of its media control and flexibility.
Eight distribution systems were used for the event. The central digital audio routing was handled by two Nexus Star routers and 27 Nexus Base Devices. Two Avatus consoles, three Aurus platinum consoles and a single Crescendo platinum console were used at FOH for the main festivities, with audio routing handled by four Nexus Star routers and nine Nexus Base Devices.
The OB van used for the broadcast was equipped with an Aurus platinum and an OnAir flex mixing console. Here, one Nexus Star and six Nexus Base Devices were used for routing.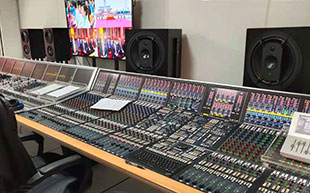 The van, which broadcast an art performance from the National Stadium in Beijing, used the second largest Nexus subnetwork of the event, with five Nexus Star and 14 Nexus Base Devices, as well as four Avatus and one Crescendo platinum. The audio of the permanently installed PA system in the stadium used two Aurus platinum mixing consoles, one Nexus Star, and seven Nexus Base Devices. The studios providing the national and international broadcast feeds were each equipped with a Crescendo platinum, a Nexus Star and two Nexus Base Devices.
'For a complex application like this, only the powerful and operationally reliable Nexus was an option,' says Stagetec Media Technology General Manager for Beijing, Dong Zeng. 'Reliability and redundancy are particularly crucial for live broadcasts, especially for high-profile events like this one.
'With Nexus, we never had any concerns about network size, and the performance of Stagetec's mixing console systems speaks for itself. The elements of the ceremony were salutes, eulogies, choirs and military bands with extraordinarily high demands on the sound quality. Without a doubt, Stagetec is the best choice for this.'
The event was attended by 70,000 guests, and included speeches, a large military band, hundreds of singers and a performance of The Great Journey, representing the history of the CPC with its revolutions and reforms.
More: www.stagetec.com