Located in the rural German town of Storkow, the Hirschluch Protestant youth training and community centre is part of the Association for Youth Aid & Social Work institution, acting for the Ministry of Education through experiential education and youth training opportunities.
When plans were drawn up for a new purpose-built seminar building, Brandenburg Entertainment secured the contract to equip the new Silver Moon building with a flexible sound management system, capable of being operated by the day-to-day staff at the centre.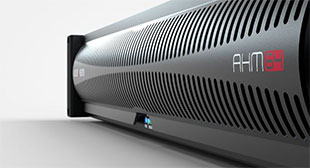 The new building houses six seminar rooms on the ground floor, and the Jupiter Hall on the upper floor, offering almost 232m2 of configurable space for theatre, music, meetings and online conferences.
'The hall space can be divided by partition walls,' explains installer Tim Berker of subcontractor AudioVisionRent from Kaiserslautern. 'So we have different situations in which we either use the whole hall with a main PA, or a number of separate rooms. To be able to achieve the required routing flexibility, we decided to use an Allen & Heath AHM-64 Matrix Processor to manage the audio.'
Pairing the AHM-64 with an Allen & Heath DX012 output expander to feed the PA system via AES, removing the need for a further stage of A/D conversion and the associated latency.
As with many fixed installs, it is common for non-technical staff to be on-site supervising the various events. To enable simple operation for the staff, Berker deployed iPads running the Custom Control App.
'We have programmed various scenes on the AHM-64, so the respective configuration – separate hall, connected hall and outdoor area – can be called up on the iPads, via a clearly designated button in the app, recalling the appropriate input and output routing for the application,' Berker explains.
'Thanks to the existing infrastructure and the new, additional high-quality event technology, we are well prepared,' the school says. 'The entire area with its diverse range of activities has a lot in store for young and old.'
More: www.allen-heath.com