Having his recording studio in North Philadelphia burgled and being out bid on property for a new studio in Seattle are just two of the events that put US musician Patrick Fitzgerald on the road for 18 months. ' We moved into a van and travelled the country – 'we were nomads for a year-and-a-half', he recalls.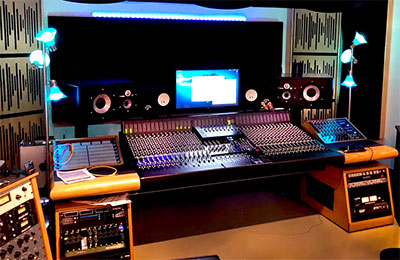 Then he arrived in the Piney Woods of Eastern Texas, where he spent the pandemic building a recording studio centred on a Solid State Logic Origin analogue inline mixing console.
Previously, Fitzgerald has worked in many cities, starting out in Philadelphia, then as a session keyboard player and vocalist in New York City. He also had a prog rock band called Monster Hands, whose other members were also session players, and who had recorded their debut album together in the Pacific Northwest.
'That's where I became familiar with SSL products,' he recalls. 'I was trading session time with Gary Reynolds at Electrokitty Recording, who had a big 9000 J.'
He moved to Texas about a year before Covid' 'I filled up the house with all my instruments, so [his wife's parents] took pity on my wife and built a giant building, and we took our house down payment and built out this studio. It was the perfect project for Covid.'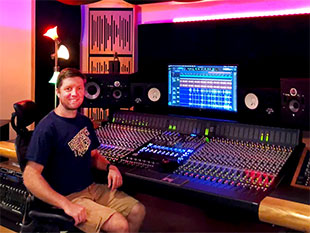 Matt Knobel at Westlake Audio's Nashville office supplied all the gear for the new facility. 'Matt was incredibly helpful, given his experience with consoles. I never felt once like he was trying to put the hard sell on me,' Fitzgerald says.
'He threw a couple other consoles in the mix, but I felt that, for the money, the Origin was a steal. For twice as much money I didn't see that much more value in those other console brands.'
The Origin also allowed Fitzgerald's to save money on features that he really didn't need: 'I don't really care to use automation, especially when tracking,' he says, but added an SSL UF8 controller to the centre of the console. Its eight motorised faders and 43 assignable keys provide ready access to functions in Pro Tools and Logic Pro X, both of which Fitzgerald uses.
Ultimately, it is the sound of the console that matters most: 'Now that I've had a chance to use this, it sounds absolutely incredible,' he reports. 'I really like the Drive function – I think I like the PureDrive preamps on the Origin better than the 9000. I feel like you can drive them a little bit harder. I plugged an AEA R88 ribbon mic into it and it didn't have a problem with it, so that was impressive.'
Fitzgerald prefers the sound of the Origin's E-Series EQ to the 9000 series console that he used previously in Seattle. And like the 9000, he points out, he has dozens of identical mic preamps and EQs across the board with Origin. 'I liked mixing on the big 9000, because I could have 32 of the same preamps and the same EQs. Plus, I've got 16 500 series SSL dynamics modules in separate outboard racks.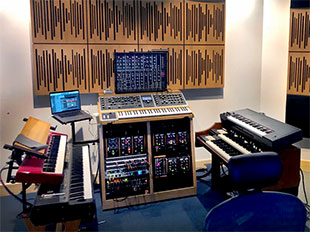 'It's a throwback console, but it's very forward thinking. The push-button routing is very cool,' he says of the central 16-bus assignment facilities. 'And I love that it's smaller, because I just don't have the room.'
Knobel and Westlake Audio curated an equipment list to suit Fitzgerald's needs. 'Matt did a great job of selling me the right pieces. We got a couple of 1176 compressors. I've got a couple of tasty pieces of tube gear, a couple of reverbs and a myMix Audio personal monitor mix system. And I got Burl converters; when you combine those with the SSL it's almost like you're recording onto an Ampex tape machine.'
Fitzgerald hired Vicoustics to provide an acoustic treatment package in order to get the best out of the room and his Focal Trio Be reference monitors. 'I also got a Trinnov machine to help me analyse the room and fix as many of the foibles as I can, just by resituating things. We've gotten a pretty flat curve,' he reports.
Having grown up listening to Keith Emerson and Rick Wakeman, and covering songs by King Crimson, it's no surprise that Fitzgerald also has quite a collection of keyboards, including two Hammond organs. One belonged to his father, who was a concert pianist and was invited to study with Vladimir Horowitz. 'That's where it started, with him egging on my bad habits,' Fitzgerald muses.
More: www.solidstatelogic.com