With seven branches spread across El Salvador, San Miguel-based Electronica 2001 has been a leading player in the country's entertainment technology industry for the past 35 years. In line with its mission to provide top-end equipment supported by technical advice from highly-trained personnel, it recently invested in Central America's first DiGiCo Quantum 7 digital missing system – joining an SD12, an SD10, four fully-loaded 32-bit SD-Racks and two D2-Racks in its inventory.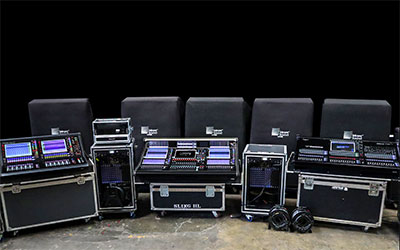 'As a service company, we need to be at the cutting edge to address the demands of both producers and engineers who specify the best consoles for their shows,' says Sales Manager, Eduardo Gomez. 'DiGiCo's range of products is the first choice on most technical riders. Our philosophy has always been to work with the best in the industry and owning DiGiCo consoles has allowed us to provide the equipment necessary to do any world-class show here in El Salvador.'
'We are very proud to be part of the DiGiCo family and to be able to accommodate the demands and professionalism with which the most prestigious shows are now produced,' adds Diego Gomez, who is in charge of international relationships at Electronica 2001.
'This is part of our DNA as a rental company. Owning three of the best consoles in the world is amazing. It has helped us achieve the high level of commitment we have to always live up to, to meet the exacting demands from our industry.
'While we have all faced challenges, adding Quantum 7 to our inventory means that we are ready to continue this commitment into the future.'