A May weekend brought music fans together for the inaugural Friends Of Mine festival – four stages of classic Manchester music.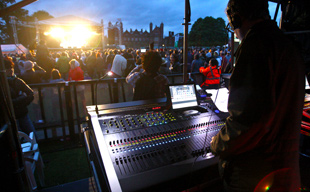 Against the backdrop of Capesthorne Hall near Manchester, acts including Badly Drawn Boy, The Buzzcocks, The Fall the Charlatans braved weather that say some stages temorarily closed for the event, while Paul Nicholson from Red Square Audio/Midas ProSound handled the audio requirements – with set-ups that included an APG Uniline loudspeaker system and three Innovason Eclipse digital mixing consoles for the main stage, and Roland's V-Mixing system in the Big Top Tent.
Nicholson, who also engineered some of the bands, chose two Eclipse desks for FOH in order to be able to flip-flop between acts, and a third Eclipse on stage for monitors. Innovason engineer Eddy Josse was on hand at FoH to assist visiting engineers to set up the console and answer any questions, while Andy Reeves looked after monitor world. APG's Mathieu Delquignies assisted with the Uniline system tuning.
APG's Uniline line array system was making its first outdoor UK at the event, as the main stage PA system. APG speakers were also used for stage monitoring – a combination of SMX15 and DX15 monitor wedges plus TB118 subs and M3000 Side Fills.
'It's great to have such amazing support from the manufacturer,' Nicholson says. 'We were particularly pleased to have Mathieu with us on this occasion, firstly because it's the biggest Uniline system we've had out in the UK to date, and secondly because we really weren't helped by the weather that weekend – we had strong, blustery winds to contend with for most of the set-up and show days, which turned into gale-force blasts with occasional hail storms on Sunday. It's a challenge making any system sound good under those conditions, but Mathieu and the team did a great job, and the results were truly stunning.'
Nicholson's comments were echoed by punk rocker Goldblade's frontman, John Robb, who posted a review of The Fall's performance at FOM Fest (engineered by Nicholson,) on his website Louder Than War: 'It really did sound good. Rare for a festival, the PA was crystal clear and the blustering winds couldn't ruin it.'
Nicholson used LR hangs of nine UL210 full range mid/hi cabinets supplemented by two UL210D down fill cabinets and eight UL155B bass cabinets with 16 TB218S dual 18-inch subwoofers (four beneath each hang and eight across the front of the stage). APG was also in evidence on the stage, where bands benefitted from a combination of 16 SMX15 wedges supplemented by two DX15 drum fill monitor speakers plus two TB118S subs. A pair of 3000Cs were also used for side fill. DSP throughout was handled by APG DMS26 digital loudspeaker processors.
'I think that APG proved without a doubt at FOMFest that Uniline is a system to be reckoned with and deserves its place amongst the "big names" of the industry,' says Nicholson. 'Despite challenging conditions, we had nothing but compliments for the sound, both for the PA and the stage monitors. At FOMFest we were using Uniline in what APG refers to as its Complete Mode for a high-power system. Our aim was to provide coherent coverage with constant directivity throughout the listening area up to a distance of 75m from the stage. We achieved that easily – in fact, we might need to rein it in a bit for next year. However, the compact modular design of the system means that it can be adapted to pretty much any sized event, large or small, so it's a really versatile system for any rental inventory.'
System management for the main stage called on two Apex Intelli-X2 48 processors. 'The Intelli-X2 plug-and-play architecture and great sound quality making it streets ahead of the competition,' says Nicholson. 'We decided to use a pair of units on the main stage because that's where all the name bands were playing and where we wanted to concentrated our efforts.
'We positioned the two Innovason Eclipse consoles at main stage, with one Intelli-X2 on one console and one on the other, linking them out through Word Clock. We used AES and analogue connections – you can do three layers of linking, so if one fails another takes over, which is a unique function of the unit.'
Red Square took the opportunity to showcase the units to visiting engineers: 'The engineers thought the units were really cool,' Nicholson reports. 'They like the iPod style integration on the front display, which is very contemporary and stylish, and they like the fact that you don't have to use a computer with it, so you can take it out as a standalone unit. The units are also very easy to understand – anyone who's used a DSP unit before will be able to use them within just a few minutes.
'The Eclipse consoles also did a sterling job, and were incredibly well received by all of the engineers who used them, both at FOH and monitors,' Nicholson reports. 'Almost everyone commented on how easy they were to use, which is important in a festival set-up where the pressure is on. From a sonic point of view, I think that Eclipse is one of the best-sounding consoles on the market today, and the combination of the Eclipse with the APG Uniline system made for jaw-droppingly great sound.'
Also on the bill, The Cribs engineer, Paul Fyfe agrees: 'It was my first time using Eclipse, and I thought the desk sounded great. I really enjoyed using it and have added it to my production specs for future festivals, so I hope to be using it again very soon.'
The consoles' integrated multitrack Mars recording systems were also put to good use: 'Mars is just such a great tool,' Nicholson says. 'It was there for any of the bands who wanted to make use of it – and many did. Just a couple of mouse clicks ensures that up to 64 tracks are recorded onto the internal (removeable) hard drive. All the engineer has to do is download it onto their PC/Mac, mix it, and put it on YouTube or whatever they or the band want. We recorded Bad Lieutenant's set and then played it out over the main PA when we were setting up the next morning – it was exactly, but exactly as if they were there on stage again. Fabulous.'
BBC Radio Manchester was also on site throughout to broadcast the festival, taking a left right feed from each stage. 'They said it sounded fantastic,' says Nicholson. 'And that is down to the audio chain, with the Intelli-X2 units playing an integral role.
As a longstanding Roland user and dealer, Nicholson used the event to put the Roland M-480 digital console through its paces in a live environment. Only recently launched, the M-480 is a central unit in a full V-Mixing System that can be integrated with Roland's Digital Snakes, Personal Mixing and Multi-Channel Recording solutions.
In the Big Top Tent, the M-480 demonstrated its capabilities as a live mixing console, taking care of FoH under the supervision of Simon Kenning from Roland. A similar setup was used at the Bowl Stage, with an M-480 at FoH with an S4000-S3208 and S-1608.
Taking advantage of the flexibility of a modular V-Mixer System, the S-4000-S3208 Digital Snake was installed as a digital interface at the side of the stage, providing 32 mic/line inputs and eight outputs or returns. The S4000 S-3208 was connected to a S-4000M REAC Merge Unit enabling all REAC network streams to be merged and giving the engineer the ability to choose a different preamp to use for each act. Designed for live sound, the high quality XR-1 mic preamps provide up to 28dB headroom and can be controlled remotely from FOH or stage.
Also part of the modular Digital Snake system, the S-1608 stage unit, S-0816 FOH Unit and S-0808 I/O unit provided flexible configuration including the options of using external battery operation or embedded power supplied over REAC.
'The Roland V Mixer range offers both engineers and rental companies a highly flexible superb sounding solution, with features only found on consoles that cost four-or-five times as much,' Nicholson comments. 'I have been using their consoles for the past four years, and we have sold dozens into all areas of the industry – every one of which has performed flawlessly. Reliability is such an important factor to consider when specifying consoles and we have had zero issues since we began using Roland products. I also like the 4s boot-up time, which is a godsend when someone inadvertently pulls the power or the generator packs up. The consoles did a sterling job at FOMFest and we had nothing but compliments from all the engineers and bands. I would like to thank Roland for their support at this years' festival and we shall certainly be using Roland consoles again at FOMFest 2012'.
'I have to say that FOMFest was a great success and as close to perfect that I could have hoped for, and we're all looking forward to doing it again next year,' Nicholson closes.
More: www.redsquareaudio.co.uk
More: www.innovason.com
More: www.apg.tm.fr
More: www.apex-audio.be
More: www.rolandsystemsgroup.co.uk