In Wexford, north of Pittsburgh, the Orchard Hill Church striking contemporary architecture houses a 1,200-seat auditorium that recently undertook. a US$1.3m design-build renovation which included installation of L-ISA Hyperreal Sound technology by L-Acoustics.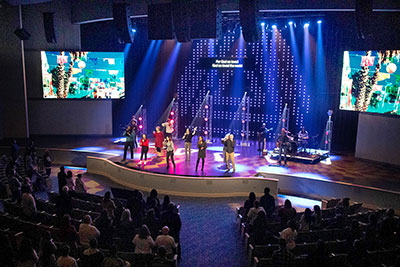 'It's been clearly shown that when we can connect what we see with what we hear, the technology disappears,' explains L-Acoustics Application Manager for Houses of Worship, Josh Maichele. 'L-ISA makes the connection between sight and sound more natural and, in the process, breaks down the technical barriers to worship.'
Orchard Hill Church Technical Director John Cornelius had been introduced to L-ISA at the L-Acoustics facility in the Westlake Village neighbourhood of Los Angeles, where worship-technology directors experience it first-hand. 'It's a step-by-step process, starting with a demo of the system and then sessions during which visitors can get hands-on with the mix, using prerecorded worship tracks,' Maichele explains. 'John arrived knowing nothing about L-ISA, and left excited by its possibilities for Orchard Hill Church.'
'I remember going in thinking that immersive audio was kind of a gimmick – I was definitely sceptical,' recalls Cornelius, who has been with the church for more than two decades. 'But after a few minutes with Josh going through the system, I was all in. It was very impressive. The thing with immersive is that it's very hard to describe, but once you experience it, it's amazing.'
The church's L-ISA system was installed with assistance from integrator Key Code Media and L-Acoustics Certified Provider (CPi) Hollowood Sound, and comprises five L-Acoustics arrays spread over the stage that comprise the Scene system, with two smaller outside arrays over the stage wings that make up the Extension system. The three central hangs feature five A15 enclosures each – four Focus over one Wide – flanked by two outer hangs of five A10, also four Focus over one Wide.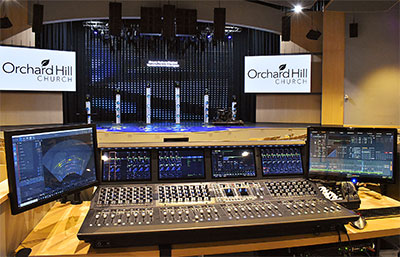 Behind the centre array are two hangs of three KS28 subs each. And on the far left and right side, three A10 hangs of two Focus over one Wide serve as Extension. Between the Scene and Extension arrays on each side are three A10 Focus used as out fill, bringing the flown array count to eleven hangs. In addition, 14 5XT coaxial boxes are flush-mounted into the face of the stage for front fill.
The Scene and Extension systems are powered by 12 LA4X amplified controllers, while two LA12X are used to drive the KS28 subs and the out fill and ancillary loudspeakers, such as the eight X8 used to cover the rearmost seating. The immersive system is managed by a pair of L-ISA Processors paired and served by an Avid Venue S6L mixing console, and Auvitran audio toolbox handles the Madi, AVB and Dante format interfaces.
In terms of hands-on operation, Cornelius says L-ISA quickly went from intimidating to exhilarating: 'Once you learn how the L-ISA Controller works and you break your mental mode around stereo, it's easy and even intuitive,' he says. 'And the results are spectacular.
'It's a great format for house of worship because we can so precisely locate the sound. That's nicely experienced during the 20 to 30 minutes of music we have at the beginning of services, but it's especially useful for the time when the pastor is centre stage – L-ISA keeps the focus totally on him, and it really increases engagement.'
And the congregation has noticed – Cornelius says sonically astute members have responded positively to how L-ISA makes the music better. 'One specific comment I received from someone was that he could hear the decay of the cymbals on the drum kit,' he says. 'And this comes from people who don't have a background in pro audio. L-ISA shows that immersive sound is truly a new kind of reality.'