Formed of a twisted stack of five cuboids of various sizes resting on a podium base, the 31-storey, 168m-high Ministry of Taxes building in the Azerbaijan capital of Baku is presently the only building designed by US architectural company FXCollaborative outside of its headquarter cirty of New York.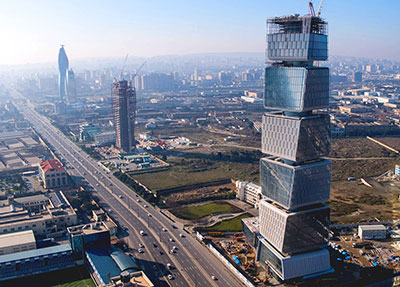 With each floor is rotated 1.2° with respect to the floor below, cumulating in a 40° twist from bottom to top, the building was completed in 2020 and is the new national landmark of Azerbaijan.
Inside, it houses a 400-seat auditorium, boardroom, cafeteria and a 60ft-high winter garden space, crowned by a rooftop garden offering unobstructed views of the city.
While the view from the building is one of its most striking features, so are the sound and acoustics of its auditorium thanks to local A/V systems contractor ProAV LLV and DAS Audio systems, the professional sound of the auditorium and the aesthetic power of the building are a match made in heaven.
At the base of the tower, the 400-seat multipurpose auditorium saw ProAV LLV contracted to carry out the sound installation, choosing DAS Audio loudspeaker systems to provide sound in-line with the ambitions of the venue.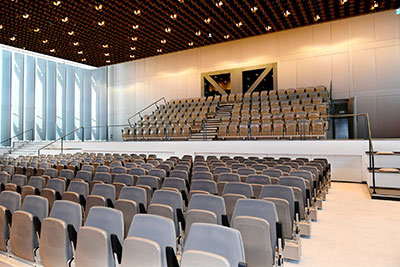 To achieve the required intelligibility and sound throughout the installation, ProAV LLV opted for 16 Event-208A, a lightweight, self-powered three-way system with high-end DSP components and an Easy-DSP configuration system.
The sound quality offered by this system, as well as its versatility and ease of configuration, suits it to any type of event hosted in the auditorium, from conferences to concerts of any kind. In addition to these systems, two further Event-218A units were employed to underscore the low end.
Additionally, ProAV LLV also deployed four Vantec-12A boxes as a multi-purpose system for floor monitoring.
ProAV LLV was also commissioned to install the stage lighting system, the public address system, the A/V system, the conference and interpretation system and all the A/V systems in the meeting rooms on the various floors.