M1 Distribution has struck a strategic agreement with Spanish boutique recording electronics company Tierra Audio to handle exclusive distribution in the US, Canada, Mexico and South America.
Madrid –based Tierra Audio was launched in 2018 by co-founders Esther Gutiérrez and Javier Pascual with the aim of designing and manufacturing premium pro audio gear 'with a handcrafted and environmentally aware approach'. Today, the company's line of pro audio equipment faceplates are made of cherry wood sourced from sustainable forests to offer better thermal insulation and more 'surprising' aesthetics than traditional fascias.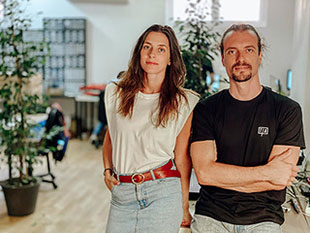 Tierra Audio products are designed from the ground up with attention to raw materials, electronics, ergonomics and sonic performancewith advanced functionality and environmental awareness. From the most budget-conscious products to flagship outboard, Tierra Audio builds on classic recording concepts to bring them into the 21st century.
The company commitment to eco-responsible manufacture minimises the use of plastics and maximises recycled and recyclable materials. For every product sold, Tierra Audio plants a tree as part of the Tierra Green programme. Each product serial number will receive a geo-tag to allow the owner to find the location of the tree planted for their product.
In addition to its preamps, compressors, equalisers, summing mixers and microphones, Tierra will launch more than 20 new products during 2021 to inspire artists, producers and engineers in the more than 22 countries where the company is already present – such as the new Flavours Preamps and the Bamboo range ribbon microphones, with three distinct textures and sonorities.
'Working hand-in-hand with M1's Miko Mader and the M1 team is a tremendous source of pride for us,' says Tierra Audio CEO and co-founder, Javier Pascual Soriano. 'Their energy and professionalism is invaluable.'
'Since the 2019 Winter Namm Show, the American public has noticed our international reputation,' adds Tierra co-founder, Esther Gutiérrez. 'With the help of M1, thousands of new customers will have access to our products. This motivates us tremendously to continue to develop important new products.'
'I've been watching the evolution of Tierra Audio's mission and they have brought a comprehensive array of products to market in the time it takes most companies to bring just one product to market,' says M1 Distribution Director of Operations, Miko Mader. 'It's clear they understand what they not only wish to be in our industry, but in this world.'