Tokyo's Itabashi Culture Hall recently completed the five-year replacement of an 'ageing sound system' that had become inadequate for its ability to stage pop, jazz, classical and rock music concerts as well as traditional Japanese music and drama. Inaugurated in 1982, the venue's 1,263-seat main hall is complemented by meeting room and rehearsal spaces. Over each of the past five years, different components – such as mixing facilities and wireless systems – were replaced to culminate with the installation of a new L-Acoustics Kara II sound system in the main hall.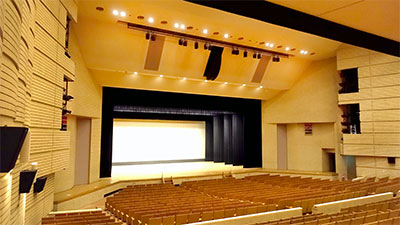 The auditorium's prior system had offered sufficient power and clarity for many years, but an ageing analogue audio network had contributed to a degradation of high frequencies which required constant equalisation and was also causing feedback issues during soundchecks.
When the time came to renew the system, Itabashi Culture Hall Head of Sound, Katsuhisa Mochida reviewed several brands and proposals. Based on his prior experience with L-Acoustics, he opted for a Kara II-based system, installed by Hibino Space Tech. 'We chose Kara II because we knew it would achieve consistency of sound coverage from the ground floor all the way up to the balcony,' he says.
Hibino Space Tech used L-Acoustics Soundvision to design a system comprising a centre array of 12 Kara II with LR hangs of five Kara II per side. Two additional arrays of ten Kara II each serve as side fill. Two coaxial X15 HiQ are used as stage monitors, while three KS21 subs per side define the low end. The system is driven by one LA2Xi and 14 LA4X amplified controllers, complemented by two L-Acoustics P1 AVB processors.
'With the Kara II system, no matter how loud we drive it, there is no feedback. It's amazing how L-Acoustics can provide a high level of sound reproduction for the large auditorium of the Itabashi Culture Hall,' Mochida enthuses.
A full digital network system upgrade is now underway, including the installation of an Avid Venue console in the control room to provide AES input to the P1 AVB processor, while LA Network Manager monitors and controls the entire system. For the moment, the existing analogue lines are still available for redundancy, allowing the system to be switched instantly in the case of emergency so that the performance can continue without disruption. 'There is a clear difference in sound quality with AVB, and we hope to convert everything to digital soon to realise the full potential of our new Kara II sound system,' Mochida says.