Peak City Church in Colorado Springs, Colorado recently moved to a new location with room to expand its congregation, services and community outreach. Accompanying the move, the church looked to A/V systems integrator, Sight+Sound Technologies (SST) to design and install sound, lighting, and video systems that include a distributed audio system for the lobby/cafe and common-space hallway area, and systems for multi-use classrooms.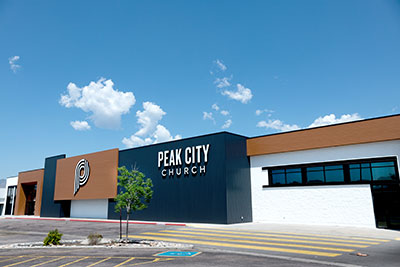 Peak City Church currently serves about 800 with a range of services, support groups and classroom-based instruction for children and adults. From corporate headquarters in Colorado Springs, SST provides an array of professional A/V services, including custom design and certified installation for new and remodel construction, acoustic room analysis, special event planning and support, as well as equipment sales and rentals. SST has been an LEA Professional amplifier reseller and installer for the last couple of years and has placed LEA amps into a range of applications.
SST COO Kris Johnson was one of the key people involved in the project, and reports that the church wanted 'intelligible, pleasing, clear and flexible audio support' for its auxiliary spaces and classrooms. The common areas often carry the audio of services or other programmes being held in the main sanctuary, but may also use their own background music, announcements or audio. The three multi-purpose classroom systems are primarily independent and are used to support group-specific programmes or video support.
'We put in place five LEA Connect Series 704D, four-channel amplifiers – two supporting the distributed audio and three more amps, one in each of the classrooms,' Johnson says. 'We did the whole distributed audio through the lobby and in the hallways with the LEA amplifiers. All the sound systems are now on the same Dante network so that we can distribute the sound anywhere we want, which is a very nice growth feature for the church.'
The LEA Professional Connect Series 704D amplifier is a family of Dante-ready, IoT-enabled amplifiers intended for small-to-medium scale installations. These feature direct HiZ (70V or 100V) or LoZ inputs selectable by channel, with three ways to connect – built-in WiFi access point, the venue's WiFi, or the Fast Ethernet to connect to any local area network via Cat5 or Cat6. The Dante Connect Series also features analogue inputs and Dante inputs and external I/O control for remote on/off and fault monitoring.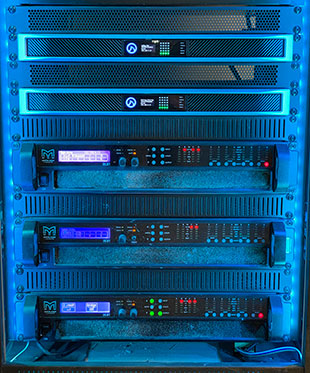 'The 704D is one of our favourite amps; we keep a couple of them on the shelf because they always come up as a great fit for projects,' Johnson says. 'The wattage and features of the 704D are a good fit for the variety of different speaker systems we use. We've hooked LEA amps up with Martin Audio, EAW, Bose and other loudspeaker brands, and we always get great-sounding results.'
In addition to sound quality and installation flexibility, the SST team continues to install LEA amps for their robust reliability and the excellent service and support they receive from LEA Professional.
'Over the years, we've had just one amp we needed to ship back, and when I called up to see if we could get an RA, they just said, "Yes, absolutely, let's get you another amp, we'll take a look at it". As it turned out, the amp had trouble with some voltage spikes and dirty power going into it, so it wasn't a fault of the amp, but LEA was great about it.'
The Peak City Church distributed system is making full use of the DSP features of the 704D amplifiers. With a built-in, 96kHz, 32-bit core DSP architecture, Johnson appreciates how this offers savings in rack space, weight and system costs, as well as installation time. He is also impressed with the amplifiers' ability to connect through the LEA Cloud platform for remote service and support.
'It's really refreshing to have a single-rack-space amp that has good power, and a lot of network features behind it, and all at a great price – other single-rack-space amp brands are just not very economical for us for most applications,' Johnson says. 'LEA amps are feature-rich, rugged, and affordable; that's what we love about it. We have a hotel project coming up, and we will most likely specify several LEA amps; I'm looking forward to working on that project and working more with LEA Professional.'
More: www.sightsoundtech.com