Located in the heart of Singapore, ParkRoyal Collection Marina Bay is a new destination offering 'holistic hospitality experience with impeccable service'. Part of the Pan Pacific Hotels Group, the hotel occupies a renovated building with a Garden Ballroom equipped for sound by CCW Associates.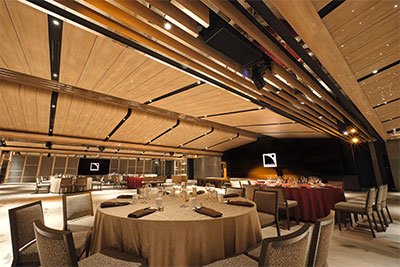 The ballroom hosts wedding banquets and corporate dining events and can also be partitioned into three separate rooms for corporate seminars. The acoustic and audiovisual consultant was asked to specify an audio system with all loudspeakers concealed from view.
CCW Associates invited Singapore-based L-Acoustics Certified Provider Concept Systems Technologies to participate in the project tender, based on its experience in providing audio systems to more than 40 hospitality projects around the city.
'A stereo pair of point source enclosures and 6.5-inch ceiling speakers had been distributed across the ballroom,' explains Concept Systems Technologies Project & Sales Director, Gerald Fong. 'Unfortunately, the technical limitations of the system prevented the team from being able to push the levels to their desire.'
With 140° horizontal coverage, a single pair of L-Acoustics Syva, concealed on either side of the Garden Ballroom stage cover the 36m ballroom. A pair of Syva Low subs are embedded in the ceiling area close to the stage, and 18 compact 5XT speakers, again hidden in the ceiling architecture, are aimed down, offering full-range sound to seated guests. Six additional Syva Subs are hidden in the back and side ceiling area to provide low-end down to 27Hz. Two L-Acoustics LA4X and three L-Acoustics LA2Xi amplified controllers drive the system.
'The Syva system looks, sound and feels comfortable for guests who come here to celebrate some of life's most momentous occasions,' Fong says. 'We have had event companies coming to this venue for set up, and when they recognise and hear the L-Acoustics Syva installed, they promptly request to use the system for the event. I believe they are pleasantly surprised by a system that is well hidden in the beautiful interior design delivering pristine sound for their clients and guests.'