With Martin Audio marking its 50th anniversary year and Roland championing the impact of its TR808 Rhythm Composer on music creation, both companies are now offering branded merchandise.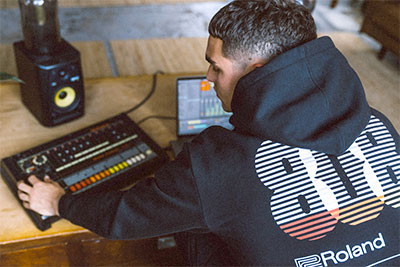 Roland has found a partner in Zanerobe for a limited-edition apparel collection celebrating the TR-808. Sales from the collaboration will sponsor six students through 1500 Sound Academy in Los Angeles, which offers music production training to aspiring professionals.
'Roland and Zanerobe share a passion for creativity and a commitment to influencing culture,' says Roland Lifestyle founder and Creative Director, Nathan Chandra. 'By teaming up, we are able to build a legacy that bridges the gap between music and fashion.'
After Roland launched the TR-808 Rhythm Composer in 1982, the 12,000 units became a cultural phenomenon and created foundational sounds for hip-hop and electronic music. The 808, as it came to be known by many, paved the way for Phil Collins, Marvin Gaye, Run DMC, and Beastie Boys. Today, it is still used by artists like Kanye West, Pharrell, Timbaland, Swizz Beatz, and RL Grime.
'Core to Zanerobe is artistic expression and music,' says Jonathon Yeo, director and co-founder of Zanerobe. 'We are excited about all the great things 1500 Sound Academy is doing to help a younger generation of artists reach new levels. We thank Roland and the academy for including us in this life-changing initiative.'
Proceeds of the collaboration will sponsor six young artists to attend 1500 Sound Academy - the most elite music production training available for musicians worldwide. Co-founded by Grammy-winning R&B/pop singer/songwriter James Fauntleroy and Grammy-winning producer/musician Larrance 'Rance' Dopson from the acclaimed production collective 1500 or Nothin', the school functions as a gateway career by providing hands-on training and education into music production and emerging business practices.
'We created 1500 Sound Academy with the goal to give back to our community,' Dopson says. 'We are thrilled to bring together three global organisations through art, music and fashion to help young musicians fulfil their dreams.'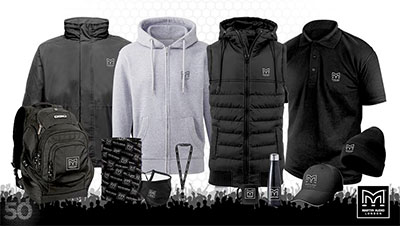 Martin Audio, meanwhile, has made a range of clothing and accessories available through a new online Official Merchandise store. Items include executive backpacks, facemasks and coverings, T-shirts and Polo shirts (with and without anniversary branding), as well as hoodies, sweatshirts, bomber jackets, baseball caps and beanies, body warmers and even embroidered logo Barbour jackets. Other accessories include mugs, golf umbrellas and lanyards.
'Our anniversary has given us the opportunity to implement an idea we've had for some time,' says Marketing Director, James King. 'Many users have requested the store over the years, and having found the right partner – which came about through our work with #WeMakeEvents – we are happy we can now offer a range of merchandise for Martin Audio fans around the world.'