The University of Winchester's School of Media & Film recently hosted the inaugural Women & Gender Minorities in the Music Industry: Songwriting & Production Camp , bringing 15 students – regardless of gender – into its music studio complex. Spanning two weeks, the initiative included intensive workshops involving industry luminaries during the first week, and use of the university's recording and postproduction studios in the second.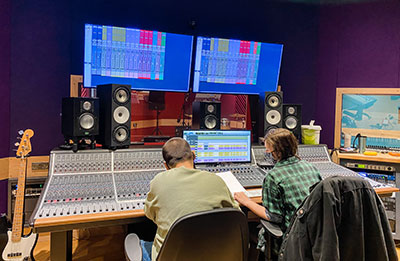 With the resulting recordings set for release in coming weeks, the participants made good use of the studios' Audient ASP8024-HE mixing consoles.
The idea for the songwriting camp resulted from a student forum considering gender balance in the university. Keen to keep students front and centre in conversations about diversity, Senior Lecturer in Music Production, Dr Niall Thomas, has championed equality within the music programmes for a long time. Although things have begun to change, current statistics across all three year groups studying BA (Hons) Popular Music: production and Performance & BA (Hons) Sound Production at the University show just 20.45 per cent are female or non-cis gendered. 'Still a long way to go, but a step in the right direction,' Thomas says.
Redressing the balance for this songwriting camp, the all-female in-person mentors comprised Eve Horne (Peak Music), Fragile Lucy, Natalie Fisk (formerly of The Paper Trains) and part-time Music Production lecturer, Sarah Shawcross, who is also a prolific and successful commercial songwriter. In addition, two international EDM artists joined the programme, kindly supported by Hospital Records: B-Complex and IMO-Lu wrote tracks especially for the students taking part to write a topline.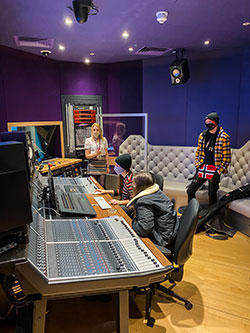 'The initiative is about highlighting the shocking statistics, and promoting to women and gender minority communities that a role in professional audio, commercial music, performance and/or production is an option,' Thomas says. 'As a programme team we have been working to make sure that our students are represented in our taught content, but also in our exciting programme of guest lectures which we hold each year.
'We aim for equal gender representation from industry guest lecturers, so that our students can see themselves in various industry roles. This project is a natural extension of increasing that visibility; it is about empowering our female and non-cis students to reclaim the studio and stage. We are really proud that this initiative came from our students and will showcase student work throughout.'
Thomas is very with the students' output, and has high hopes that this will be the first of many similar camps, as well as more direct action to promote positive change. One example of this has already come to pass with a second year BA (Hons) Music & Sound Production student hosting the first After Midnight Summer Daze music festival – raising money for the Girls Against charity that stands against sexual assault and misogyny in the live music scene. The festival featured eight student artists, nine external artists and championed a 65 per cent majority in favour of female or non-cis artists.
To counter the restricted access to studios over the previous few months, Thomas is running a mix competition over the summer that will be judged by producer, mix engineer and friend-of-Audient, Romesh Dogandoga. Prizes will be awarded for Best Mix and Best Remix in any style with one participant to receive an Audient iD44 audio interface.
The University of Winchester's School of Media & Film has a new BA (Hons) Commercial Music degree programme beginning in September. With space for a 30 undergraduates, Thomas hopes a good proportion of these will be women or non-cis.
More: www.audient.com