Used for concerts of all musical genres as well as for lectures and examinations, the concert hall at Kassel University's Department of Music (Institut für Musik – IfM) recently invited Voice Musikproduktion to install an Alcons sound system.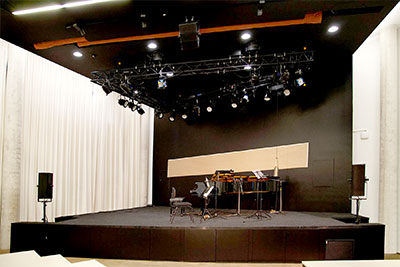 The installation was prompted by PA workshop conducted by Rolf Dressler – Kassel's 'longest-serving sound engineer' in 2018 – when instructors and technical assistants were highly impressed by the sound of the system he had set up in the concert hall alongside the house system.
'Whenever we switched back from the Alcons to the house system during Rolf's workshop, I kept thinking that our speakers had just been broken,' says Roman Beilharz, a lecturer in the music department, and in charge of sound engineering. 'It was striking – when switching back, the clear, punchy sound of the Alcons systems collapsed into a nasal, muffled mush. After that, it was clear which loudspeaker systems we wanted to install in the long overdue renewal of the hall's technical equipment.'
Once the funds had been approved, the replacement of the PA system was put out to tender throughout Europe in 2020. The bid from Dressler received the highest score in the evaluation process and was awarded the contract for purchase and installation of the new PA.
In February 2021 Dressler's company Voice Musikproduktion installed a sound reinforcement system comprising two Alcons QR24 column array systems and a centre cluster of three LR7 pro ribbon line array systems. Two BF151, 15-inch subwoofers are used to provide bass support. The system is driven by an Alcons Sentinel10 Amplified Loudspeaker Controller. In addition to the main sound system, Voice Musikproduktion also supplied a new digital mixing console with digital outputs patched directly to the Sentinel.
Alcons' QR24 is a modular two-way column loudspeaker that can be used as a scalable vertical array system for permanent and portable applications. The system combines 1:1 linear, dynamic response with exceptional speech intelligibility, and is at home in environments such as the IfM's concrete walls and glass elements. The QR24 provides coherent horizontal dispersion with seamless coverage. In addition to this patented projection, the pro ribbon driver's natural cylindrical wavefront provides unparalleled control in the vertical range, minimising sound reflections on floors and ceilings.
The LR7 is the smallest Alcons pro ribbon line array system. Despite its compact design, the light-weight system offers all the features one would expect from an Alcons system: uncompressed, powerful and neutral reproduction with exceptional speech intelligibility, precise coverage control and high SPLs.
'The aim of this installation was to generate a sound that would appeal to classical musicians as well as jazz, rock or pop musicians – all genres of music are being taught at IfM,' says Dressler. 'But since the room is also used for lectures and talks, the new PA should also provide excellent speech intelligibility. The Alcons systems best met all of these criteria. This, combined with my experience with sound reinforcement in general and the Alcons systems in particular, was crucial for the customer. Even though the university is currently running in limited operation, everyone involved is very happy with the new sound experience in the concert hall.'
'That comes as little surprise to me,' he continues. 'I have not found such clarity, such uncompromising sound, in any other system though out all those years of my career as a sound engineer. In addition, Alcons' product portfolio is very extensive and really covers all needs in the best possible way. From the very small to the very large, there is the perfect system for every application. I cannot think of any application where I wouldn't recommend Alcons with utmost conviction.'
More: www.alconsaudio.com