Part of an extensive technical system renewal at the Deutsche Oper am Rhein (Düsseldorf Opera House), system integrator Salzbrenner media, under the leadership of the planning office Walter Kottke (BWKI), has manufactured and installed a and future-proof stage management system.
Dating from the mid-1950s in its current form, this is one of the defining venues on the German cultural landscape. It has a 1,250-seat auditorium with a 20m-wide and equally high stage. The demands on the in-house technological infrastructure are high, in particular those of the stage manager's workplace as the focal point of every production.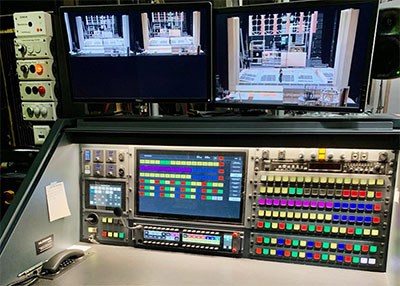 The centre of the new system is a powerful control processor unit, which includes all necessary interface and automation options, to which a highly flexible stage management console solution is attached. Thanks to the completely mobile conception of the desk, the system can be operated in practice on either side of the stage, as required.
The desk system was made to measure by Salzbrenner media, and is supplemented by a wired/wireless intercom system with a multichannel matrix from Riedel Communications, allowing up to 50 wireless receivers and 14 stationary units to currently be addressed in parallel. In the course of the modernisation, the control technology of the opera's control room on the fourth floor was also equipped with the latest options for video and audio programming of the processes and seamlessly integrated into the overall system. House-wide communication and data transfer uses a Gigabit Cat control network, fibre-optic cabling, a digital 3G-SDI video network and an extended audio infrastructure, including a redundant Dante network for cross-system audio distribution.
Real-time control systems with low latency is one of the essential pillars is one of Salzbrenner media's specialties. For the Deutsche Oper am Rhein, a technologically trend-setting HD monitoring system with a total latency of less than 30ms, paired with controller integration and responsive 9-inch to 40-inch monitors, was chosen. Equipped with a scene display and control of the rehearsal sound system in the hall – independent of the main sound system – this this guarantees a reliable monitoring and call system functionality in all areas from the artist's dressing room to the common rooms and the canteen to be perfectly integrated.
The set-up is supplemented by a bell system for the corridor areas, which has been greatly expanded in terms of functionality. A fully IP-based traffic light system can be used flexibly with both wired and wireless light signals to ensure that, not only the ensemble but also the entire crew, is kept up to date during rehearsals and performances.
With this renewal of the stage management system and the installation of a Salzbrenner media Stagecast workstation with video, editing software and modern media server connection, essential workflow processes of the Düsseldorf Opera have been 'significantly and sustainably optimised'.
More: https://salzbrenner.com