Composer, producer and engineer Justin Miller recently had Carl Tatz Design commission the studio design firm's PFM UHD-1000 Master Reference Monitor System at Miller's new hand-crafted Five Points Recording in Huntsville, Alabama. This is Miller's second PhantomFocus System, the first one having been installed at Five Points Recording Nashville (formerly known as Yellow Hammer).
The new tracking/mix facility has taken a step up in the monitoring department from the Nashville location, with new Ultra-High-Definition PFM UHD-1000 Master Reference Monitors in the PhantomFocus System.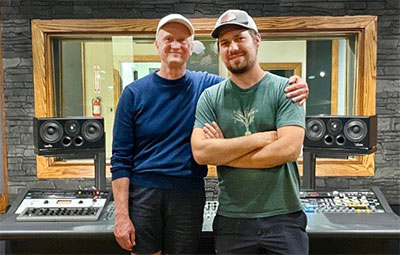 'I immediately noticed an improvement over my older monitors that are part of the PhantomFocus System in my Nashville studio,' Miller reports.
'The PFM UHD-1000s render an even more holographic centre image' and there is low-end clarity from the muscular PFM ICE Cube-12 subwoofers. It's easy to hear why PhantomFocus is considered the leader in near-field monitoring.'
Miller – who is currently in the middle of final mixes on a recording made using the newest revisions monitored on the UHD-1000s – is happy to report that the mixes were quickly approved by the client.
Along with recording local bands and artists in the Huntsville area, Miller will use the new facility and its large tracking room to support the artists on his record label, Winter Records, which he co-founded with chart-topping musician, artist and producer Grayson (aka Michael Edser). The studio also promises new opportunities for drum sounds for Miller's Nashville Sampling Co.