Europe's largest free music event, Primo Maggio usually attracts upwards of 500,000 revellers to the streets of Rome to mark Italy's annual Labour Day. With Covid restrictions forcing a relocation to the Cavea open-air amphitheatre in the Auditorium Parco della Musica, this year's audience of just 500 were present for a live broadcast on national TV and radio. Rome-based rental company ABC oversaw the event's production with support from Allen & Heath distributor Exhibo, plus dLive rental partners Mod/Rooster, Arcadia Digital and Suono e Luci.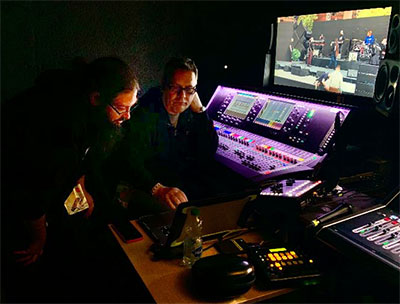 The change of venue brought new challenges for the experienced team: 'We've worked on the previous four Primo Maggio concerts, but this is the first time it has not been possible to use active splits between the two stages and the broadcast system' says Exhibo Pro Audio Manager, Roberto Marchesi. 'This year, we relied entirely on dLive's tie-line functionality for the splits. Each MixRack was connected via fiberAce or gigaAce, and 96 inputs on each stage, plus over 24 channels of communications, were split digitally via dLive's tie-lines.'
Broadcast mixing duties for TV and radio were handled by a pair of A&H dLive S7000 Surfaces, both connected to DM64 MixRacks fitted with Dante and gigaAce cards for digital splits. Broadcast engineers Roberto Rosu and Arturo Pellegrini also used IP-8 remote controllers for easy control of Comms channels without consuming channel strips on the S7000s.
'For a show like this, flexibility of the control surface layout is fundamental, followed by the ease of achieving the desired sound without resorting to external processing,' Rosu explains. 'This, combined with the ability to add external control like the IP-8, allows you to focus on musical choices, rather than purely technical ones.'
For the FOH sound in the Cavea, two dLive S5000 Surfaces were paired with two DM48 MixRacks, both fitted with Dante and gigaAce cards to facilitate splits to the other systems.
FOH engineers Simone Squillario and Gianmario Lussana were pleased with the choice of dLive for FOH duties, particularly considering the demanding changeovers: 'They sound great, and they are user friendly and quick to operate, especially in a festival situation where time is precious' Squillario says. 'It's easy to use, even with very short soundchecks' Lussana adds. 'I also love the built-in compressors, and the Dyn8's Dynamic EQ is clean sounding and easy to use.'
In onitor world, a further two dLive S7000 Surfaces were both connected to onstage DM64 MixRacks fitted with Dante, gigaAce and fibreAce cards. A pair of IP-8 controllers were used for local comms levels, with four DX32 and four DX168 audio expanders for additional I/O. Monitor engineers Michele 'Sem Cigna' and Cristiano Grassini were quick to praise dLive for monitor applications. 'It ticks the most important boxes' Grassini says. 'Great sound, easy to mix and a very fast workflow.'
The event's comms were managed by an Avantis mixer – also used for mixing the onstage presenters and external video feeds – at the FOH position, and a dLive C2500 partnered with a DM32 at monitors, overseen by comms engineer Luca Marini. Additionally, an AHM-64 matrix mixer was used to handle the FOH feeds for the sound management system, handled by industry veteran Klaus Hausherr, as well as distribution of the feeds from the Avantis and dLive comms systems
'Everything went smoothly, and it was possible to obtain a perfect stage swap and control of the patches for each artist with ease' Marchesi reports. 'Overall an excellent result, confirmed by the smiles of the resident engineers, and the satisfaction of Alessio Martino of Alto Stage Management.'
More: www.allen-heath.com