Birmingham's International Conference Centre (ICC) hosts around 400 different events each year, covering the full spectrum of duties from conferences to awards.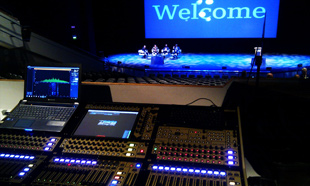 Hall 1 – the venue's main space – is a tiered, 1,500-capacity auditorium. Previously equipped with an analogue mixing console, it now has a a DiGiCo SD8 console running with its d&b Q series loudspeaker system.
When the ICC's old console reached the end of its cost-effective working life a replacement was sought, with a digital console the obvious way forward. 'A major criterion for the new console was its "walk-up friendliness",' says ICC technical Event Services Manager, Paul Dipple. 'The ICC plays host to many visiting engineers that often have very limited time on site before an event, so the console needed to be able to be learned quickly and intuitively.
'In addition, it's a multi-purpose space and the console needed to be flexible enough to accommodate a mixed programme of events. We also considered the availability of faders on the surface, which is a definite advantage, especially for some of our corporate work. Finally, budget was important, due to the financial climate we still find ourselves in.'
Alongside these factors, Dipple and his team had a loose spec in mind. The previous console was an eight aux, 24 matrix output unit and a similar kind of output capacity was required, as well as more than 40 input channels. 'With the ever-increasing numbers of radio microphones being used on productions and the steadily increasing formats available for video playback, we started to find ourselves short of input channels worryingly often,' he says.
After considering a range of options, the venue settled on the SD8 as it fulfilled all of its requirements, together with a 48 analogue i/o + eight AES i/o DiGiRack on stage and a 48-input/24 analogue-output, MadiRack in the control room 'Looking at the SD8 system as a whole, we found that it fulfilled our requirements in a very cost-effective way,' Dipple says. 'We were impressed at how flexible and 'walk-up friendly' it is, while a big plus was having the option of 36 input faders on the surface.
'All 60 channels being selectable between mono or stereo will prove to be a great advantage on playback heavy shows, while building a bus structure that is tailored to the different types of events that we host and having the option to make buses mono or stereo, without losing the overall buss availability, is another advantage.'
With a number of programmed 'default' show files for different types of event, the SD8 will allow for a much quicker setup of the audio system than was previously possible. In addition, while ICC technical staff will be the console's main users, the wide range of visiting engineers will all benefit from the SD8's many powerful-but-accessible features.
'Working on the console has proved to be a seamless transition from the number of analogue consoles employed in the hall over recent times,' says ICC Sound Technician, Aaron Croston. 'I quickly and easily got used to the operation of the SD8 and it has provided us with some much needed flexibility, with the console's buss structuring capability and the many tools available.'
More: www.digico.org