When Watkinsville First Baptist Church (WFBC) opened the doors on its new home in a suburb of Athens, Georgia, worshipers flocked to its 1,200-seat auditorium to hear Pastor Carlos Sibley and the ten-strong contemporary worship team. The audio system supporting both uses a DiGiCo SD12 96 mixing console and Klang:fabrik in-ear monitor mixing system for the band, its vocalists, and pastors.
The Klang and DiGiCo systems were purchased through and integrated by Spectrum Sound of Nashville, which also installed a d&b PA system there.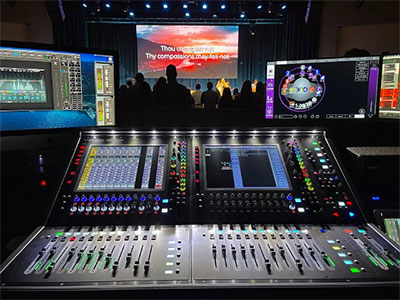 'The Klang:fabrik is just amazing,' says WFBC Production Director, Matt Hellems, who often mixes house sound for the church's two Sunday services. 'We run it as kind of a hybrid – it's not a separate console or worksurface, but we're also not using the auxes on the SD12. Instead, we take a split from the console and send that over Dante to two Klang:fabrik units onstage, where we have ten channels of Shure PSM 1000 in-ears. The musicians download the app, we give them the password, and everything's ready to go. It's totally plug-and-play, and they all love it.'
'I feel like its target market is people who are not audio engineers because everyone can easily build the mixes they want for themselves onstage,' adds WFBC Worship Pastor, Jason Dominey. 'Before, we had separate consoles for FOH and monitors – and we still have those consoles in other parts of the campus – but the Klang:fabrik and SD12 represent a "next step" for us in terms of audio.
'I remember the first time I heard a demo of the Klang system, I thought, "this is fantastic" especially for any church or organisation that has to rely to some extent on volunteers to run their systems.'
Hellems says the combination of the Klang:fabrik and the SD12 96 does represents an 'inflection point' for Watkinsville First Baptist Church's audio. 'DiGiCo was a pioneer in bringing live sound into the digital domain, and the SD-Range took digital away from that one-to-one mindset of analogue to letting anything be what you want it to be,' he says. 'It's the flexibility of the console's operation that makes it as powerful as it is. And having the Klang:fabrik integrated with it just increases that power and flexibility.'
He also says that he looks forward to applying Klang to a wider range of uses in Christmas and Easter celebrations, local school graduations, music concerts and other special events that had been curtailed there by the pandemic. 'I know the immersive aspect of the Klang:fabrik monitoring brings a new kind of experience to musicians and singers onstage, and I believe that's going to make the experience of hearing them play even more enjoyable – both for them and our audiences.'