Designed by architect Shozo Uchii and opened in 1980, the facilities at Niigata Prefecture's Shibata Civic Cultural Center include a 916-capacity hall, practice room and conference room. This spring, the main hall's sound system was renovated, with Martin Audio's Wavefront Precision Mini (WPM) chosen for the installation.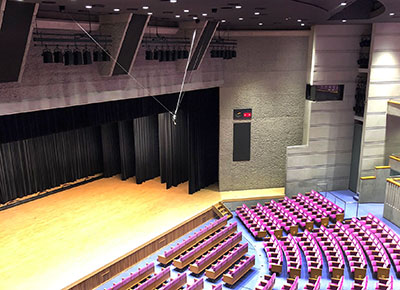 'We have been taking care of Shibata Civic Cultural Center for many years, so we knew the problems they suffered from, and what was required for the operation,' says Mr Ikeura from Niigata Shomei Giken, the electrical contractor that oversaw management of the contract.
'I believed WPM to be the perfect solution to resolve those issues,' he continues. 'We were aware that the WPM optimisation system would deliver the same sound characteristics throughout all audience areas, and that we could control the reflections, which affect performers and musicians onstage.
'Of course, I tested this with the actual products in a venue, and the result was exactly as we expected, so it was an easy decision to proceed.'
The venue is a semi-circular-shaped hall with upper balcony seats. In total, 20 WPM elements were installed for the side columns and proscenium, with Blackline X8 for fill. These are driven by Martin Audio iK42 amplification, with all feeds to the amplifier delivered via a Dante audio network. In addition, the installers specified Martin Audio Blackline X12 for stage monitors and XD12 for side fill, making it sufficiently flexible for any application.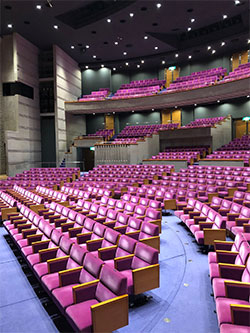 'This audience area has quite a unique shape, and you can see the stage from wide angles, almost 180°,' says Mr Inomata from Niigata Shomei Giken, who is in charge of sound operation in the hall. 'On the other hand, it is generally difficult to create consistent sound in a venue of this shape.'
In particular, the venue suffers acoustic problems caused by reflections to the stage: 'Until to now, I had given up solving this problem because it was outside the range of adjustment. However, WPM is a different story, as it can clearly handle these issues. Yamaha Sound System took responsibility for tuning the system and everyone is fully satisfied with the consistency of the sound field – it is now totally the same audio experience in all seats.
'The sound characteristic is similar everywhere in the auditorium, as WPM is deployed for both proscenium and as side columns. To combine the system depends on the performance, and the ability to control between loud volume and a much smaller sound. With WPM we can provide top-class sound quality to audiences at all of our events.'
More: https://martin-audio.com