The new Sandman Comedy Club in downtown Richmond, Virginia, aims to become the area's stand-up comedy and entertainment hub. The venue has a main floor that seats 250, a mezzanine with room for 64, a full bar and kitchen, a lot of character – and sound from Renkus-Heinz installed by Code 3 AV.
The club takes owner Michael Sands' childhood nickname, and occupies the site of a microbrewery and before that bank, with a couple of the old vault rooms retained intact. Sands took over the space just a few months before the Covid shutdown, and has spent the past 16 months refurbishing the space, building the stage, and designing and installing the sound, video, and lighting systems.
Following all Covid-19 guidelines, the club opened with limited capacity in late April with a week-long residence from American actor, author and stand-up comedian Finesse Mitchell. Soon, the Sandman will also host open-mic events, karaoke nights, and be available for corporate events and private parties.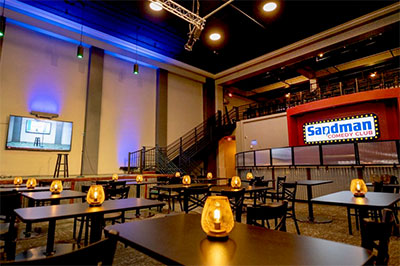 'We have a multi-use space with a lot of personality and decoration, and a big balcony,' says Sands. 'We need excellent spoken-word support for the comedians, and we need top-level music support for many other uses. We've been very impressed with the sound thanks to Renkus-Heinz loudspeakers.'
Code 3 AV Chief Engineer Vladimir Syrovatka Jr began the project by acoustically modelling the space with Ease software, to establish how to best provide sound coverage of the space and address reflective surfaces. To combat the challenging acoustics and maintain the club aesthetics, the Code 3 AV team specified an Iconyx Live system.
Syrovatka explains that, because of the balcony, the beam steering of the loudspeakers were critical. The club is a large square space with a 22ft-high ceiling, with the mezzanine beginning at the 15ft level. To address these challenges, Syrovatka paired an ICL‐F‐RN digitally steerable loudspeaker with an ICLX-118S-RN subwoofer.
'We've used Renkus-Heinz systems in other projects and have always had great results,' Syrovatka reports. 'After going through the modelling process, we saw that an Iconyx Live system would be able to provide excellent coverage for this space. I think everyone is going to be very pleased with the quality of being able to support musical acts as well as the comedians.'
The club has a sound booth and will soon have a dedicated tech on staff to manage the A/V and lighting during performances and events. The system is built around the Crestron DMPS3 multimedia switcher with a QSC Core 110F audio processor and operates from an iPad. Additionally, the club can broadcast presentations if an organisation wants to have a live event and share it remotely or record it for later use.
'Whatever Michael does on the show designer, he has the ability to capture presets on his touchpanel,' adds Syrovatka. 'He can make changes and recalls without having to go back to the controller and the complex setup required for the various scenes.'
'The system worked flawlessly and comedians Finesse Mitchell and Matt Rife raved about the sound quality,' Sands says of the opening weekend performances. 'Our customers said the sound was very clear and they could hear and understand everything the comedians were saying, which is very important to put on a good show. Overall, we couldn't be happier with the equipment and look forward to many years of great shows at Sandman Comedy Club.'
More: https://code3av.com