Now one of the most sought-after private middle/high schools in the West Los Angeles area, the Oaks Christian School (OCS) in Westlake Village currently holds events now outdoors on its 25-acre Conejo Valley campus in-line with current health directives. To serve them. OCS recently purchased a portable sound reinforcement system with an S21 digital mixing console from DiGiCo.
David Alexander is Oaks Christian School's Technical Director as well as the Facility Manager for the Bedrosian Pavilion, the campus' 30,000sq-ft multipurpose performing arts centre that opened in 2007.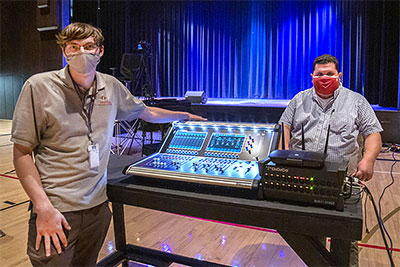 'We have a large-format desk as our mainstage console at the pavilion, but it's far too big to move quickly and deploy easily as an outdoor desk for mid-size events,' he says. 'We needed something that would be much more portable, but also wanted something that would sound great without requiring additional outboard gear. The DiGiCo S21 was perfect.'
OCS typically pairs its new S21 with either two or four stacks of JBL line arrays, each featuring two active VRX932LAP full-tange boxes and a single VRX918SP subwoofer.
'Our new rig is designed to fill the gap for any and all outdoor events, including High School worship events – we are doing them on a grade-level-only basis for now to keep our students and faculty appropriately distanced – and admissions events, like our Family Tour Day and Open House. Eventually, when we are cleared, the new system will also support games for our athletics dept, including football, soccer, basketball and volleyball, as well as any performing arts events that may start up outside.'
Oaks Christian School Audio Engineer and Production Technician Jonathan Hagberg is most often the one crewing the new DiGiCo/JBL set-up for the school, which was established in 2001and presently boasts an enrolment of nearly 1,500 students between the fifth and twelfth grades.
'I'm really enjoying the S21,' he says. 'We used it to record our Middle School Talent Show, as well as deployed it with two stacks of the VRX cabs for a Junior class Chapel out on the football field, and it was a champ.
'For the Chapel, we had more than 100 Juniors and their advisors socially distanced, and the system very effectively covered about 80 yards of the football field with plenty of volume and clarity. Splaying the speakers, I used the S21's onboard EQ and delay processing to shape and tame the slap-back echo from both the concrete walls of our basketball gym nearby and the metallic reflections of the stadium seating. Everything sounded great with absolutely no feedback or mud.'
Running the S21 as a standalone desk, Hagberg is particularly pleased with the onboard dynamics: 'I have found that the S21's reverbs are very controlled and intuitive, and within minutes of starting on the console, I was able to dial in a really lovely wood room reverb that reminded me of some of my favourite vintage reverbs that I've used in the recording studio,' he says.
'I had a very big "whoa!" moment when I turned the DiGiTubes on and cranked them a bit on the vocal channels. The warmth they added was both noticeable and very pleasant to listen to. We have a young soprano vocalist here at the school that can often really stress tube emulations and create unpleasant harmonic distortions in the 4-6kHz range, but on the S21, I was able to use the DiGiTubes to add a ton of low-end body and warmth to her voice without noticing any harshness or brittle distortion. I was very impressed.'
True to the academic mindset, Hagberg views the new desk as yet another learning tool that will come in handy for educational purposes at OCS. 'I anticipate training co-workers and students, especially in the worship leadership class, on the console,' he says. 'The S21 has the ability to toggle on and off more complex and advanced features – such as multiband compression, dynamic/active EQ, and so on – and I think that's quite useful. It enables me to run shows at a high level of complexity when needed while also allowing me to train students on the basics of signal flow and processing before throwing more intense audio concepts at them. For those that find they really enjoy learning about mixing sound, our new DiGiCo will give them the opportunity to learn on the best.'
More: www.digico.biz