Churches throughout South Korea have been calling on distributor Daelim Musical for line array systems from Amate Audio – the past 14 months have seen the company install systems in more than nine churches.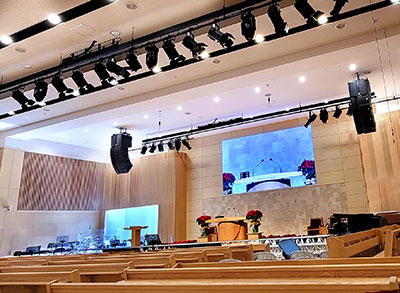 The largest of these, the First Presbyterian Church in Wonju city, has installed as system comprising Amate Audio 16 Nitíd N208 1.5kW active line array cabinets and two 2.5kW N18W subs, flown as LR hangs. The majority of the installations, however, have involved Amate Audio's Xcellence series X12CLA ultra-compact constant curvature array.
Since March 2020, Daelim has designed and installed five sound systems in churches featuring the X12CLA array together with the X18T active sub, using left and right hangs comprising an X18T sub and four X12CLAs. These installations include Seo Won Church in the city of Cheongju, Mu Guk Central Holiness Church in Eumseong city, Yumchang Central Church in Seoul, Chuncheon Gwangyum Church in the city of Chuncheon and Jangheung Central Church in the city of Jangheung.
'Four X12CLA cabinets will provide 110˚ x 60˚ with a fully uniform coverage for a hall throughout two floors,' says Daelim Musical General Manager Sun Uk Ji.
He cites power and performance as determining factors in his customers' preference for the X12CLA over products from competing brands. But he also acknowledges their onboard DSP system management in greatly reducing the time required to install, tune and fully commission an installation.
'The X12CLA has active power amplifier and digital signal processing,' he says. 'The system control parameters can be set to expectation and then quickly modified by W-Fi when the cabinets are flown in position.'
More: www.amateaudio.com