Founded in 2000 by Grammy winner Fabio 'Estefano' Salgado (on a John Arthur and Bret Lambert design), Midnight Blue Studios was the hub for his Latin American crossover productions that featured artists including Gloria Estefan, Jennifer Lopez, Ricky Martin, Thalía and Enrique Iglesias.
The facility continued its winning streak for subsequent owners and artists – including Bigram John Zayas (DVLP) and Marco 'Infamous' Rodriguez-Diaz, and DM Records – through to its acquisition in 2015 by Matthew DeFreitas, who renamed it Bay Eight Recording Studios following an acoustics update from acoustician Ross Alexander, who also did Lenny Kravitz' Miami studio.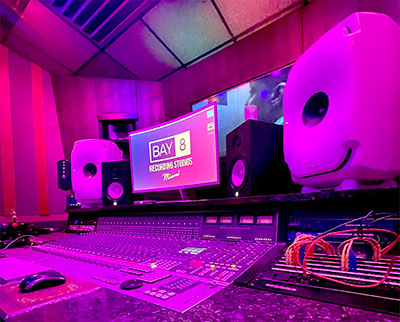 Most recently, the studio took another leap forward with the purchase of a pair of Genelec 8361A The Ones Smart Active Monitors for Studio A.
These two-way speakers include Genelec's GLM calibration software, which allowed DeFreitas to create distinct, highly accurate monitoring zones for mixers seated at Studio A's SSL AWS 900+ console or producers seated on the couch at the mix room's producer's desk island.
The 8361s – which are finished in white and were purchased through Mike Harris at Harris Audio Systems in Miami – have taken what was already a great mix room to a completely new level, says DeFreitas. 'We were looking to change things up a little, and people had been telling me how good the Genelecs sound,' he says. 'So we went for the 8361s, and we demoed them for two weeks. We were getting great response from everyone who heard them, and the GLM software added a lot of flexibility to the studio's workflow, so we went for it.'
As good as the 8361s sound, they also look great, which is no small matter in a design capital like Miami. 'They look very cool — the white design option was a great move on Genelec's part,' he says, noting how well they pair aesthetically with the studio's vintage-modern interior, which fuses the studio's history with modern design elements such as Aztec and contemporary-inspired accents, and hand-painted murals by local Miami artists Lola Blu, Ariel Cruz and Weiyi Fan. 'They have the perfect look for Miami. And the perfect sound.'