For its first in-house ESPN/American Athletics Conference broadcast, Philadelphia's Temple University needed to convert the analogue audio sources from microphones serving the men's basketball and women's basketball, volleyball and gymnastics productions. Consultation with Alpha Video led Director of Video Production and broadcast engineer Kevin Hession and his team selected the Ferrofish A32 AD/DA converter.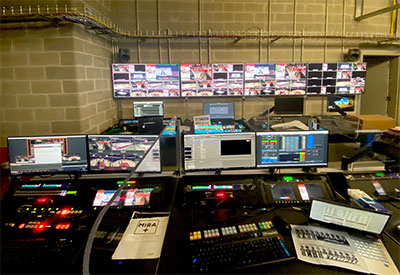 'We wanted as much functionality as possible to still be able to use analogue audio when necessary,' Hession explains, adding that the A32 converter (also available in a Dante format) is routed to a full patchbay. 'We're then able to patch those sources to the necessary destinations.'
The broadcast team then convert that to Madi and send it to a 64-channel digital mixing console. 'The audio ecosystem we implemented makes audio routes incredibly simple,' Hession adds. 'The A32 gives us a ton of flexibility with that.'
Aside from its functionality, Hession said another key feature when selecting the A32 converter was its ease of use: 'It allows me to focus on the actual production rather than having to constantly troubleshoot any potential audio faults,' he says. 'If we want another audio source, or even if our broadcast talent just wants a different analogue source we've set up, it takes less than four clicks.'
Recently, Hession and his team produced the Hall of Fame Temple Men's Basketball Head Coach John Chaney's 'Celebration of Life' service, which aired simultaneously on ESPN+ and YouTube – drawing thousands of viewers watching live from Temple's Liacouras Center.
'An outside A/V company came in to do any in-house audio, and all we had to do was connect their mixdown to the A32, and we had crystal clear audio,' he explains. 'It was as simple as that.'
More: https://ferrofish.com