Founded in 1888, Cerveceria La Tropical founded the Cuban beer industry and thrived until the country's revolution when its assets were seized. Fifty years on, the founding family has relocated to Miami giving Cerveceria La Tropical a new home and making Cuba's oldest brewery one of Miami's youngest – with DAS Audio loudspeakers now installed throughout the complex.
A/V integration and live event production firm Sound Investment Audio handled audio system at Cerveceria La Tropical, with Jon Raymond, Sound Investment's Chicago‐based National Project Manager, working with the company's regional project managers on its design, planning and installation.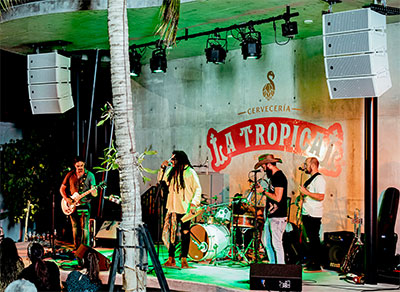 'Cerveceria La Tropical's inside areas make up roughly 17,550sq-ft and include the brewery and bar in addition to table seating,' he explains. 'This inside area is where the beer tasting, and dining take place. The outside area includes a courtyard measuring 130ft by 45ft, with tables and a stage area located at the far end of the space. The stage faces the length of the area and musical entertainment includes a combination of performing bands and DJs.'
The Sound Investment team wall mounted ten DAS Artec‐308 two-way point source loudspeakers throughout the inside area with two Vantec‐18 subwoofers for low-end.
Outside, the stage area is adorned with eight DAS WR‐320‐DX two-way passive line arrays – with the left and right hangs each comprising four enclosures. Low frequency support here is from four WR‐218S‐DX weather resistant subwoofers positioned beneath the stage. For stage monitoring during performances, there are four DAS Action M‐12A Active 12‐inch 1kW stage monitors.
'When we design a system for a venue such this, our strategy is to provide the best possible value to the client, while maintaining sound quality,' says Raymond. 'Without this, you'll never retain the customers. In this regard, DAS loudspeakers provide the clarity and dispersion characteristics that we specify, so the sound coverage is consistent in as much area as possible.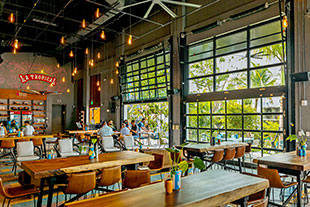 DAS Audio build quality is another important consideration. The company makes rugged, durable equipment and the weatherised WR series enclosures are a great example of that. Equally important, the hardware/flyware for all DAS Audio loudspeakers is terrific – and this makes the installation process considerably easier, and like everything else, time is money.
'This project has been a tremendous success,' he adds. 'There have been several great reviews in the local publications and the outdoor stage with live music is a big draw. To sum it all up: business is booming and, as a result, management is really happy. We intend to continue our strategy of providing high quality audio and services to Cerveceria and each venue will be better than the last. I believe this project has been a positive experience for all involved – and DAS Audio is a part of this success.'