Doubling as sound engineers mixing and mastering their own work, LA-based music production duo The Wildcardz share songwriting credits with Sadie Currey, as well as co-writing songs with K-Pop supergroups EXO and NCT, American DJ 3LAU and Nikki Flores (Nas, Christina Aguilera, JoJo), and collaborating with eight times Grammy award-winning producerHarvey Mason Jr. On top of this, their movie soundtrack work includes Universal Pictures' Pitch Perfect III and Sing II, 20th Century Fox's Bad Times at the El Royale.
Currently finalising their second string sample pack, the recently added an Audient ASP800 mic preamplifier to their studio set-up. 'This mic preamp sounds great on everything we use and it's also significantly upped the quality of our string recordings and samples,' says Ester Na, one half of the talented multi-instrumentalist team. 'The ASP800 has taken our string recordings to a whole new level. We've done several A-B tests and also included our audio engineer friends on the test and the ASP800-processed strings wins hands down.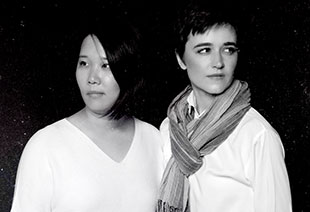 'We honestly had no idea it would work so well on string recordings and planned on using it mainly for guitar, bass, percussion and drums, but after running violin and cello through it we were super pleased with the results.
As multi-instrumentalists – Na on keys, bass, guitar and cello and Currey playing bass, guitar and violin – they appreciate that the ASP800 is so versatile. 'It offers all around flexibility and works really well with our Vanguard V13 mic. You can really crank the knobs and get a heavy and saturated sound with guitars and bass, or you can just add a slight bit of colour to bring a string composition to life.'
They also record a lot of vocals with the Vanguard V13, Audient ASP800 running into an Apogee Quartet and using Pro Tools to record. Adding Covid-19 into the mix over the last year has meant they have worked from home which Ester describes as 'an adjustment and a learning process…
'Fortunately we had a really good home studio set-up right as the lockdown happened. As far as creating music and new songs and tracks, we haven't slowed down, although we have been affected in how we collaborate with others.
'We have done Zoom sessions which have gone well and written some really great songs this past year. We also have been doing more co-production sessions where we send stems and tracks back and forth to producers, and also have been arranging and recording strings within our home studio.'
The Wildcardz have been active in many projects over recent months, including a release on the new NCT 127 album, Neozone, as well as collaborating with UK artist, Raye on her latest single release, 'Natalie Don't', and having their song DNA featured on the Netflix comedy drama, Gente-fied.
And more is to come: 'We will be collaborating with music production platform PROMU founded by music producer Tee [Drake, Alessia Cara, Meghan Trainor], and creating a sample pack full of goodies for music producers and songwriters. We also have a Splice collaboration in the works, and are super excited about this.'
More: https://audient.com