When the lease expired recently on Bangkok's the Jab Pae Chon Kae restaurant, owner Nicha Uengkhao took the opportunity to relocate to a new site in a high-traffic area adjacent to a popular community mall. The move also saw the restaurant upgrade its sound system specification to provide a more dynamic entertainment experience.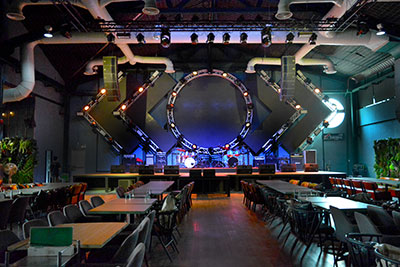 With live music ranging from pop and rock to EDM accompanying the restaurant's dining. Recently, Nicha had envied the sound provided by L-Acoustics systems at live events and festivals around Bangkok. In 2016 – when he opened Jab Pae Chon Kae in its original location – he had hoped to install an L-Acoustics Kara. Although it remained out of reach, he kept in contact with Vision One, L-Acoustics certified distributor and integrator for Thailand.
When L-Acoustics launched its A Series constant curvature line source in 2019, Vision One hosted a launch event and demo where that the Jab Pae Chon Kae team began to discuss the possibility of an upgrad. Then came the move to the new location: 'We knew that the new location, close to the popular The Circle community mall, but also not too far from our original space, would give us a unique opportunity to widen our audience,' Nicha explains. 'We knew that the A Series would offer a superior live music experience to diners.'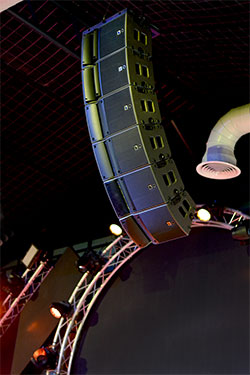 'The team at Jab Pae Chon Kae called us in to survey the new venue and propose an L-Acoustics system that would work well, both in terms of sound coverage and SPL requirements,' explains Vision One CEO, Tanapat 'Tony' Mongkolkosol.
'Soundvision proved what we thought: that we could give the restaurant a touring quality sound system with arrays of A10 that would really showcase the dynamic music program on offer. A10 offered the quality the restaurant desired, while remaining within the project budget.'
The Vision One team worked with L-Acoustics Soundvision 3D acoustic modelling software to design a system to give consistent coverage to the restaurant space, which included a main dining/dancing area with cathedral ceilings, flanked by two intimate areas with lower ceilings. The main area system consists of arrays of five L-Acoustics A10 Focus, with a single A10 Wide at the bottom, per side.
The top two enclosures use Panflex to set arrays at 90° to throw sound to the rear of the venue without inviting reflections off the walls, while other four A10 are set to 110° for wider coverage to the area directly in front of the stage. Six KS21 subwoofers supply the low-end rumble, while two X12 provide coverage to the venue's wing area. L-Acoustics LA4X amplifiers drive the system, along with an L-Acoustics P1 processor to bridge AVB and analogue audio with a low latency and high bandwidth.
While current government guidelines restrict indoor activities, the team at Jab Pae Chon Kae look forward to fully opening to clients soon: 'With A10, we've got all the power we need – and more. It's a great feeling to be settled into our new, high-profile location, and to have the sound system that we've been wanting, for over five years. We're excited to offer this vibrant new experience to our clients.'