Founded in 2014 by József Gricz, Hungarian rental and installation company, G-Sound serves high-profile events and provides technical support for sports complexes, recently adding an L-Acoustics K Series to its inventory.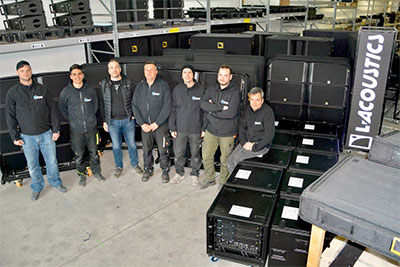 The system was supplied by L-Acoustics Certified Provider Distributor, Audmax: 'In 2019, József was looking to take the next step in event technology and started to dive into the L-Acoustics world,' says CEO, Krisztian Varga. 'In December of that year, I offered him a visit to the L-Acoustics corporate office in Marcoussis. Both József and his system engineer, Zsolt Balogh, were impressed with what they saw. We spent a fantastic day with sales manager Florian Kunz and application engineer Willi Klein, who organised an open-air K2 demo for us.'
Although Gricz was now set on a K2 system, the purchase was delayed by the pandemic until late 2020. 'We knew that adding L-Acoustics to our inventory would make a significant difference to our business and the adverse situation in 2020 was only a short-term hurdle,' says Gricz. 'As the industry slowly returns to better times, it's even more important for us to be ready to offer the best sound experience to our clients and partners. We are hopeful that the summer season will offer us moments to show what our new K2 system can do.'
G-Sound's K2 system is based on the KX standard and comprises 36 K2, 12 K1-SB, and 24 KS28, plus an additional 18 Kara II. All amplified controllers are LA-Rak II AVB, which fits with G-Sound's optical backbone cabling.
Gricz already has plans for further investment: 'We'd like to add L-Acoustics stage monitors and fill systems to our inventory,' he says. 'We also feel that the unique, corporate-event friendly Syva would be a great tool for us.'
Varga continues to work closely with G-Sound for daily support. The crew completed the System Fundamentals training, a one-week online course, and are looking forward to hosting L-Acoustics Willi Klein for a hands-on session as soon as conditions allow.
'We are delighted to welcome G-Sound to the L-Acoustics family,' Varga says. 'With this addition to the systems already owned by Klemm-Concert and Soul-Light, we are looking forward to a strong K2 alliance in Hungary.'
More: www.l-acoustics.com