Powersoft has announced a new online training programme comprising two free training sections for end-users.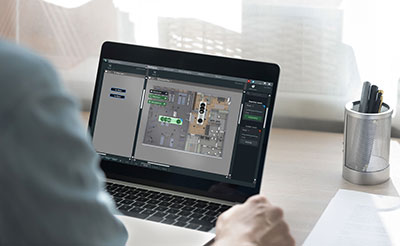 The first, Remote monitoring and Control Using ArmoníaPlus and Third Party plug-ins, is scheduled for 25 May (6am/2pm/8pm CET), followed by Workflow and System with Dynamic Music Distribution on 8 June (6am/2pm/8pm CET), and then Dynamic Dante Patching and System Configurations on 15 June (6am/2pm/8pm CET).
The courses are designed to provide sound engineers, integrators, and A/V technicians the advantage to learn directly from Powersoft's experts and gain certification upon completion. 'Created by our in-house experts, these courses are for anyone working in the professional audio market, so they can operate with specialist understanding on audio systems, and gain an expert's insight into our audio products,' says Powersoft Application Engineering Consultant Manager, Marc Kocks.
The courses cover three main areas of the audio market: live sound, install and OEM technologies, and are split into different levels; basic, intermediate, and advanced. In the Live Sound and Install courses, end-users will be taught how to use Powersoft's products to deliver the best sound quality to audiences. As well as providing an overview of ArmoníaPlus, the courses will give users a complete overview of how to build effective sound systems that can be tailored to the specific needs of the installer.
The OEM course, aimed at manufacturers and OEM partners, will enable trainees to gain a deeper understanding of Powersoft technologies, and learn how to use them to upgrade products using the company's ecosystem of OEM solutions. Once a course is complete, the trainee will receive a certificate of completion.
'These free courses, in addition to our webinars, have been designed to give users across the audio industry a chance to build upon their knowledge and gain new skills when installing audio systems and using Powersoft products,' Kocks says. 'It's our hope that, with the launch of this Education Programme, we will be able to continue to support the audio industry's development.'
Powersoft is also hosting a programme of webinars in coming weeks, which will be uploaded to the online training portal after the event.