Only Helix has launched a new travel service designed to meet the specific needs of UK music industry professionals in the wake of the coronavirus pandemic and Brexit. Having previously worked with artists including Years & Years, Bat For Lashes, First Aid Kit and Bombay Bicycle Club, Only Helix's Steven Down and Tom Nicol are the minds behind the service, which will be headed up by travel industry specialist, Ben Young.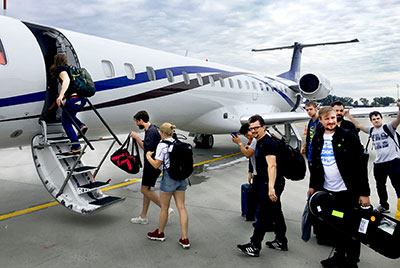 'OH Visas was born of our combined experiences, frustrations and successes with travel over the years,' Down explains. 'Brexit and Covid-19 has obviously shifted things quite dramatically, and we wanted to find an easier process for ourselves and our clients.'
'We realised this solution was something that others would probably benefit from too, so we've decided to make it a bigger part of our agency offering,' Nicol elaborates. 'We've got some great expertise in Ben, and we're excited about getting it out there.'
As the shifting political landscape has made touring more complex than ever before, travel schedules that previously required no or minimal visas, may now need multiple visas and additional paperwork to ensure a smooth passage from one country to the next.
The new service handles the entire visa process from start to finish – covering applications, appointments and embassy visits. Learning from previous experiences (and challenges) of tour and production travel, OH Visas has streamlined the end-to-end process for clients down to one universal form. As part of this, passport and ATA carnet advice and support will also be included.
Young has experience facilitating visas for the UK music industry from the ground up. He's worked with a multitude of industry professionals, sharing his knowledge and adopting his own pragmatic approach to deliver clients visa needs. He is also Level 1 OISC certified, which enables him to legally give immigration advice. 'Tom, Steve and I have great cohesion,' he says. 'The extended layoff from touring due to the pandemic has allowed us to draw upon our experiences and really think about how the music industry conducts itself to enable travel for its artists.
'I'm pretty sure any touring personnel could search their email or WhatsApp and bring up a whole load of sensitive personal information from previous tours that in the wrong hands could cause potential harm. OH Visas, we feel, addresses these security issues by providing safe, practical and efficient means to assist with applications for travel - time and time again.'
Through its production and artist management services, Only Helix works with an roster of artists – some of whom have already benefitted from the OH Visas offering. 'OH Visas understands the mechanics of a live production,' says Years & Years manager, Martha Kinn. 'There's no one I'd trust more than OH Visas to handle all mine and my client's needs – outstanding service.'
'Ben's knowledge and overall visa experience is very impressive,' adds Louis Tomlinson's Tour Manager, Mark Brightman. 'He was cool, calm and collected throughout the whole process.'