Set in Cape Town's Cavendish Square, EGG is an 'omni-channel platform' that cherry-picks elements of physical shopping and adds digital innovation in a world-class shopping experience for both local and international brands. Supporting an innovative e-commerce platform and interactive consumer app, A/V solutions company Stage Audio Works (SAW) has equipped the physical space with audiovisual equipment for an immersive in-person experience,.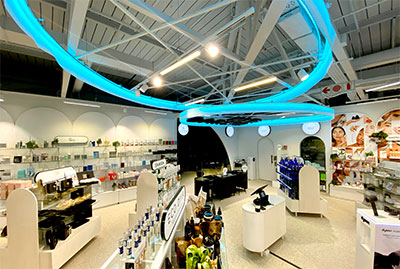 Following the brief supplied by Shawn Godfrey of retail solutions specialists Lumalytic and interior designers, TDC & Co, it was SAW has used the best of current technologies for audio, video and lighting, as well as for overall system-wide control.
'The world is not as it was, and neither is retail,' says SAW Distribution Manager, Mike Summerfield. 'We are delighted to support the EGG initiative; it is exactly the sort of ambitious, forward-thinking project that SAW excels in materialising. Working in tandem with Shawn Godfrey, our role was to bring the project to life, providing the technological solutions required. EGG truly offers a unique retail experience that has never been witnessed before in South Africa.'
For store-wide background music, paging and announcements, SAW designed a 12-zone distributed system comprising 104 Audac loudspeakers, suspended in clusters of four for 360° coverage.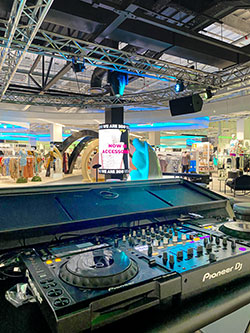 With 12 Audac subwoofers adding depth, SAW also crafted a separate system for the central entertainment zone, equipping it with more powerful Yamaha loudspeakers for live performance. A Pioneer DJM-900 mixer and two CDJ-900 Nexus CD players complete the picture.
The audio system runs on a Dante network with control via QSC's Q-Sys, which allows any input to be routed to any of the 12 zones. Two touchpanels with custom GUIs control audio, video and lighting equipment throughout the store, and staff communications are similarly streamlined via an Atterotech Paging Station.
SAW matched this high standard of sound design with a comprehensive video system and lighting.
'Our clients had a clear vision of how they wanted the space to look and feel – operative word is "dynamic",' says Summerfield.
SAW CTO Nathan Ihlenfeldt adds: 'The EGG project was a fantastic opportunity to showcase SAW's potential to supply large scale, cutting edge technological solutions. We are thrilled to align ourselves with a progressive enterprise that is taking steps to evolve the modern retail experience, in South Africa, and the rest of the world.'
More: www.stageaudioworks.com