Specialising in live sound, corporate and private events, Australian GenX Productions recently moved from an analogue mixing desk to digital.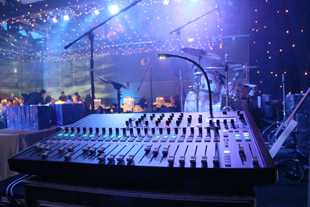 'I have owned and used Soundcraft analogue consoles for more than ten years and have been very happy with the sound they produce, as well as their reliability,' says founder and MD Alan Jurcan says. 'Once I decided to move to digital, I looked at what Soundcraft had to offer, along with competitors' models in the price range. I felt the Si Compact 24 outshines its competitors in many areas, especially when it came to user friendliness, and it had all the features and power one could ask for, especially considering its affordability. It also sounds great – clean and smooth, with that signature Soundcraft audio quality.'
GenX has worked with notable Australian artists including Richard Clapton, Dave Leslie of Baby Animals, Sister2Sister and Tiffany Wood.
At first, Jurcan felt slightly uneasy without all his usual outboard gear, but the Si Compact's built-in processing has simplified his patching and dramatically cut down on setup time. 'I never run out of DSP power and the Lexicon reverbs and effects in this console are just magical,' he says. 'The compressor section is superb. You can compress pretty hard and never get the unwanted artifacts you sometimes notice with other compressors. In fact, two days after we received the console we brought it to a show without our usual racks or outboard effects. A gutsy move, but the console delivered the goods.
'The console is really hands-on – there's a knob or button for just about every function and no confusing menus to go through,' he concludes. 'I really like the fact that I can save everything I do on the console and recall all the settings at the next show. Whether it's the front of house mix, monitor mix, EQ settings, compression settings or even just the track names, the Si Compact 24 will remember everything. This has really cut down on setup time, especially for those artists I work with on a regular basis. Thanks to the Soundcraft Virtual Si computer software, I can pre-configure the settings for a particular artist or show before I even take the console out of the road case.'
More: www.genxproductions.com.au
More: www.soundcraft.com