Spanish loudspeaker systems manufacturer DAS Audio has opened a subsidiary office in Germany – based in Troisdorf, near Bonn, DAS Audio GmbH will handle the company's sales, marketing and customer service under the direction of MD/partner Arne Deterts.
Marking its 50th anniversary, and with branches in the US, South America and Asia, the compan regards the establishment of the German branch as also 'a prelude to serving the European market more strongly in the future'.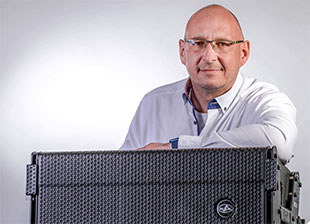 DAS Audio has an extensive programme for professional rental, touring and installation areas, as well as products in the upper segment for MI retail. In addition to a comprehensive development department for acoustics, mechanics and electronics, the plant at its base in Valencia has development and production facilities for high-quality transducers along with electronics, woodworking, painting and final assembly in-house. The company attaches particular importance to the quality and reliability of its products, including their price-performance ratio, and customer service and support.
Deterts previously headed the German branch of a group of Italian speaker manufacturers for more than 20 years, and served as MD for the past eight resigning at the end of 2020 as part of a restructuring plan. 'If, after 20 years of successful activity, you were told, that you would no longer be needed in the future, it would be bitter and then you would need some time to digest it,' he says.
'After that, I looked ahead and started to think about where I could bring in my experience, contacts, skills and knowledge. I stumbled across DAS Audio relatively early on, not really knowing a lot about them. But the more I dealt with DAS Audio, the more enthusiastic I became and the more I realizsd how well all this fitted together. Great company, great products, great people and the right approach to be successful –a perfect combination for the German market. I look forward to the challenge and am grateful for the trust placed in me.'
'At DAS, in these difficult times for society in general and especially for our sector, we continue to take all the necessary steps to remain close to our clients and users with different strategic financial plans, warranties, training and inventories,' says DAS Audio Group SL CEO, Manuel Peris. 'After more than 30 years of going to Germany, and being a global company with subsidiaries in all continents, Germany was definitely in our bucket list. Although we knew about Arne's business background and his highly professional work, once we had the chance of meeting him in Valencia and at his home in Cologne during this tough year for everyone, we were pleasantly impressed by his human values and personal quality that we identify with DAS DNA. We are thrilled to start this project together with Arne and to bring our latest generation of products and features to the strong and demanding German market.'
More: www.dasaudio.com