With the London Climate Change Festival postponed in 2020, it returned for 2021 with a Sky Arts broadcast of Song For Nature on Sky Arts on Earth Day in April. Paul Smith of Apex Acoustics provided audio equipment for the performance and mixed sound using a DiGiCo SD10 console.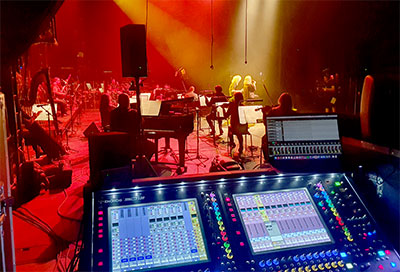 'The concert grew organically into a much larger event with performances by Brian May, Rob Brydon, Nathan Evans, Kerry Ellis, Janie Dee and Wayne Sleep, along with the ENO and choir,' says Smith, 'Brian May and Kerry Ellis were only confirmed a few days before the show.'
The concert was filmed over three days at an audience-absent London Coliseum, both on stage and in other areas of this storied London venue. The atmospheric theatre hosts the English National Opera (ENO), as well as being the London home of the English National Ballet. The film was directed by Emmy-winner Ross MacGibbon. The show itself was conceived by Dominic Dromgoole, former artistic director of Shakespeare's Globe, and directed by Bill Buckhurst (Sweeney Todd, Ghost Quartet).
Smith's first audio challenge was to find a suitable space for a temporary control room: 'As we were primarily recording the concert, I set up the DiGiCo SD10 in a room just off the royal box, and sharing an SD-Rack on an optical loop, we placed a DiGiCo SD12 as a monitor console, positioned stage left,' he says.
While personal or IEM monitoring is not conventionally a part of orchestral concert recording workflow, the pandemic now dictates instrumental sections having to manage internal balance at an increased physical distance. 'Dylan Custance mixed monitors for the artistes, while having to observe the Covid-secure spacing, providing support for the large orchestras and choirs who normally would be performing much closer to each other,' Smith explains.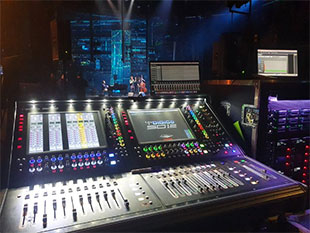 Performances included a duet from Queen frontman Brian May and West End star Kerry Ellis, Rob Brydon singing 'Lullaby' with the English National Opera orchestra, as well as dance sections from Akram Khan and a stunning solo performance by Royal Ballet principal Marcelino Sambé. Unlike a normal concert recording, the climate change messaging added additional challenges for audio continuity. There were several recitals of environmental texts spoken by David Suchet, Sheila Atim, Michelle Terry and Jonah Hauer King, as well as contributions from leading environmental activists.
'We mixed live to video, but as the schedule was tight, we multi-tracked the concert via a UB Madi so as to be able to fine tune the orchestra mix later in post,' Smith says. The UB Madi add-on box from DiGiCo Solutions allows playback and recording of 48 audio tracks at 48kHz over Madi simultaneously, via a USB 2.0 interface together with any computer. In charge of the multitrack was Zachary Woodman.
'To belt-and-brace the session, we additionally recorded direct to a hardware recorder and also took another multitrack backup from the console. In order to facilitate later editing, all recordings were synced to timecode from a standalone SMPTE generator. The main thing in the live set up was redundancy and back up recordings, so using the two DiGiCo consoles was a key part of that.'
The SD Series Optocore implementation allows two independent fibre loops to exist, with up to 14 SD-Racks and 504 channels of audio per loop (at up to 96kHz). Any dual loop console has the ability to access 1008 channels of I/O, from up to 28 locations across two loops.
'Sharing the optical loop meant we could not only share sources, but also run shout boxes between the consoles,' says Smith. 'Ultimately, with 20 plus monitors onstage – the SD12 with its two screens was a must for monitors– but also with the added UB Madi-out for multitrack backup.'
The London Climate Change Festival was founded by the two-time Olivier Award-winning actress Janie Dee. 'We have all, no doubt, realised the value and preciousness of life,' she says. 'To this end, this concert – filmed, in place of a live event – displays a collection of great artists compelled to do what they can to focus on mending the Earth.
'In both inside productions [The London Coliseum] and outdoor [a production of A Little Night Music at Holland Park Opera last August], Paul and his team have brought a level of excellence that is unprecedented in my 40 years of being a professional.'
More: www.digico.biz