With 130 locations in eight European countries, L'Osteria operates company-owned restaurants managed by FR L'Osteria SE alongside joint ventures and franchises based around the core Italian cuisine of pizza and pasta set against a modern ambience.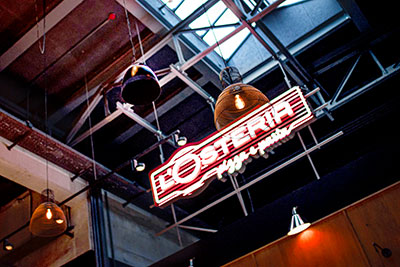 With the restaurants 'a bit loud [and] lively', sound systems have to be able to compete – a challenge met by audio installation company i:TECS from Dessau-Rosslau, which specialises in the gastronomy sector and undertakes all planning and design.At the new L'Osteria restaurant in Metzingen, Germany, the company looked to Martin Audio, distributed in Germany by Audio-Technica.
'We were given the impression right from the start that special focus needed to be placed on premium quality sound,' says Thomas Neumann of i:TECS. 'Great value is placed on the standard of restaurant design, and exceptional reproduction of the background music must also fit into that concept.'
For its playout programme, each restaurant has access to a database of several hundred albums, sorted according to time of day or season: 'It was to meet this requirement that we decided on Martin Audio,' Neumann explains.
The decision was made in favour of Martin Audio's A40 and A55 wall speakers, and ACS 40TS and 55TS in-ceiling speakers from the Adorn series. In addition to the wall and ceiling loudspeakers, the ACP-55T pendant loudspeakers are also used in specific restaurants.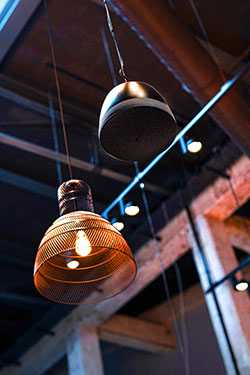 The new restaurant in Metzingen, with its structural challenges, is the first location in which almost exclusively pendant speakers have been installed. 'L'Osteria Metzingen is located in an old industrial building where we were not allowed to attach anything to the ceiling beams and wall surface,' says Neumann. 'In order to provide even dispersion in the central area of the restaurant without having to drive the outer area too loudly, we decided on the ACP-55T.
'We were able to use the existing lighting tracks and distribute the pendant speakers discreetly and evenly throughout the restaurant. In this way, we ensured homogeneous sound coverage of the entire room.'
According to Neumann, the loudspeakers are perfectly balanced, with an even presence in all areas and plenty of headroom. 'In many restaurants we have laid additional cables so that bass speakers can also be retrofitted, for instance, when the system is upgraded,' Neumann continues. 'For example, the restaurant in Munich-Pasing already has a Martin Audio SX110 bass speaker integrated.'
Neumann regards his collaboration with Audio-Technica as 'uncomplicated and smooth'.
'The relationship is very symbiotic – our requirements were understood immediately. In fact we have always found the Audio-Technica team to be highly committed, often coming up with ideas for improvement, which are taken onboard by the development department.'
More: https://martin-audio.com