Canadian casino and hotel resort Caesars Windsor recently installed a new audio system, calling on audiovisual and entertainment technology Solotech and its Powersoft's Ottocanali amplifier platforms
The venue's original audio system had been installed in 2008, but with the supplier having sent an end-of-life notice in 2018 and Caesars Corporate changing its minimum standards, it had to act decisively. 'As well as the end-of-life notice, we soon realised that we couldn't upgrade the Windows portion of the old system without upgrading the hardware to match,' says Audiovisual Manager, Brian Drouillard.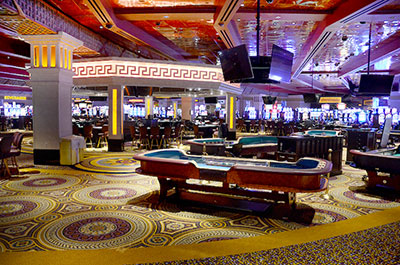 Drouillard had already been working with Solotech on upgrading the audio systems in hotel ballrooms and meeting rooms, and so spoke with its on-site technicians first to determine if they had any recommendations for alternative systems. 'We did a cost/functionality analysis to determine what would be best for us, then contacted Solotech as soon as we were ready,' Drouillard says. 'Solotech has been a wonderful working partner already, having completed a number of jobs for us in the past, both on time and on budget, with the design and functionality demanded of a world class venue.'
Drouillard was then tasked with providing senior systems designer/Q-Sys software programmer for Solotech, Peter Lima, with all of the functionality requirements, as well as all of the documentation on the old system and any changes made throughout the years. 'My first job was to confirm the interoperability and functionality of the amplifiers in relation to the Q-Sys ecosystem,' Lima says. 'I knew about Powersoft's Ottocanali amplifier platforms after seeing them at Infocomm and ISE but I'd never had chance to get my hands on one. Through our distributor, we requested a demo amplifier, so that we could model and test the feature set and AES67 interoperability between Q-Sys and Powersoft.'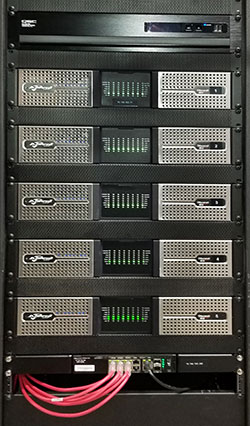 Lima needed to set up the Ottocanali amplifiers to receive the AES67 audio streams, and to fully test the Powersoft Q-Sys plug-ins. 'The challenge was to have the network QoS settings to provide reliability of the Audio-over-IP,' he explains. 'To overcome these challenges, Solotech set up all the amplifiers and network switches in the shop for a full 'burn in' period and monitored the audio streams to see if they would be affected by different end point devices. We also tested the functionality of the amplifiers' analogue inputs to the Q-Sys cores, as this was a requirement from the site.'
The main DSP was the QSC Q-Sys system, which was configured and connected through the existing network switches throughout the property to feed groups of amplifiers in five remote locations. Background music supplier, Cloud Cover, also supplied ten of its Android-based boxes to provide custom music around the property.
'From a design aspect, obviously the ability to be network connected is an upgrade in terms of us providing flexibility for growth and design adjustment if required,' Drouillard says. 'From a user standpoint, the physical size of the amplifiers allowed to remove two thirds of the racks that were used in the old system, and the front displays indicating dB level for each channel is a wonderful tool for trouble shooting and the diagnostic/configuring access.'
Solotech monitored the network for AES67 stream stability during a burn-in period, during which time the amplifiers performed flawlessly. 'I think this system is now completely futureproof,' Drouillard says. 'If they add a restaurant, for example, we can easily install an amplifier, connect it to the network and incorporate it into the system as if it had always been there.
'Solotech helped support and position Caesars Windsor in a place where we have complete freedom to customise our system as we see fit. This would not have been possible if not for the line of Powersoft products from both a functional and budgetary perspective. Powersoft provided all of the features and output power that we required at a budget level that allowed us to proceed with a complete system replacement.'
Solotech undertook a complete facility set-up on all of the Powersoft amplifier platforms prior to shipping, which allowed Lima and his team to work out the configurations and AES67 stream issues with the installed network switches. Powersoft was also on-hand throughout this period to provide any necessary support. 'Having the in-house staff as part of the turnover process is the best hands on training for them,' Lima says. 'Each member of the technical team has been going through webinar training, with class training being impossible. The Powersoft team is far superior in support and integrating comments into new firmware releases. I cannot say enough of the support that they provided.'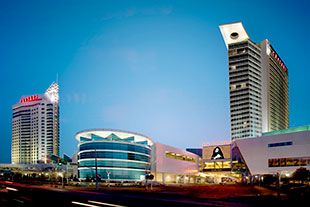 'Solotech has always been at the forefront of technological innovation,' says Solotech Senior Systems Designer, Mark Radu. 'Whether a Cirque du Soleil production, an A-List world tour or a fixed installation such as the one at Nashville's Bridgestone Arena, it's the state-of-the-art equipment, highly skilled teams and custom solutions for clients that set Solotech apart.
'Powersoft has been on the leading edge of technology since its inception. Constantly reaching out into the marketplace, staying ahead of the curve, developing innovative product and functionality. Their level of service and support is second to none. From their Business Development and Sales Management teams, through to their R&D and Engineering departments, their commitment is first class. An attitude that carries through to our domestic distribution and sales representation.
'The integration of Powersoft amplifiers and decentralised DSP in the Caesars Windsor project brought forth by Brian is a great example of the marriage of leading-edge technology and application. Caesars Windsor is a world-class casino property and demand world class solutions. And that is exactly what was delivered by Solotech in the Powersoft amplifiers.'
More: www.powersoft.com