With social-distancing measures relaxing and venues cautiousl opening their doors again, Russian acoustic-rock band Affinage have embarked on a tour of their homeland to support the release of their latest studio album.
For many of the tour dates, the band relied on their compact dLive CDM32 MixRack and laptop running dLive Director software, but when they pitched up at the prestigious Izvestiнa Hall in Moscow in late February, local hire company Jamtech stepped in to supply the sound and lighting equipment for the flagship show.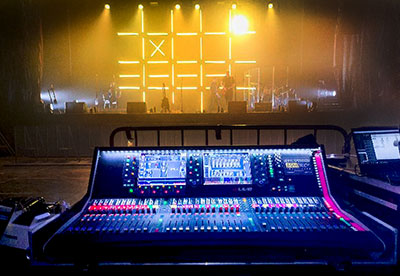 'The band have a busy touring schedule that takes them across the country, and they're usually comfortable running their dLive CDM32 system for consistency from show to show,' Jamtech's Andrey Balakhmatov says. 'However for bigger shows, the band prefer to hire in a larger dLive system – which is simple for us as the show file is easily transferred between systems'.
A dLive S7000 Surface was partnered with a DM64 MixRack to handle both FOH and monitor duties from a single system, with engineer Alexey Krivolapov taking full advantage of the 128 processing channels and 64 mix buses provided by the MixRack. The 36-fader, dual-touchscreen S7000 Surface was chosen by Jamtech for its ease of use in combined FOH/monitor applications, with the DM64 offering 64 inputs and 32 outputs on the stage without the need for remote expanders and additional cabling.
'We're always happy to deploy dLive consoles for events,' Balakhmatov adds. 'The system has enough tools to solve any problem, and it's quick to navigate and easy to configure for the operator. Our engineers love the sound of the mixer.'