Proving its own worth and that of environmental sound, architectural acoustic consulting and design firm WSDG recently volunteered itse services to The Dutchess County SPCA (Society for the Prevention of Cruelty to Animals) of Hyde Park, in New York.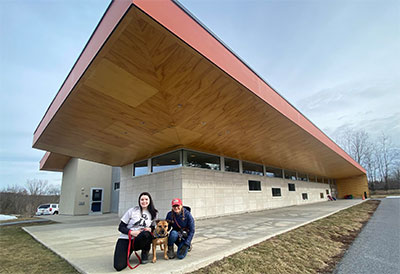 Unforeseen issues with the acoustics at the expanded headquarters occupied since 2015 had escalated as the animal population increased, and the level of noise was having an adverse effect on the quality of life for the shelter's 'adoptable companion' charges. To alleviate the issue, WSDG redressed the centre's hallway echoes to restore a calm, soothing environment.
'The shelter isn't a warehouse for unwanted animals,' explains DCSPCA Executive Director Lynne Meloccaro. 'We see our job as supporting the community as it supports its pets, and we want to be able to offer whatever support we can in the form of education and medical services in addition to boarding.'
Although the building was designed to be spacious and aesthetically pleasing, some of the design choices had created an echo chamber in the shelter's hallways, an issue that Meloccaro says is often ignored when designing spaces to shelter animals. 'Dogs and cats have very sensitive hearing and the sonic qualities of a space heavily contribute to their ability to feel safe and calm,' she says. 'The stress of the noise and reverberation from the echoes in the hallway was really becoming too much for them.
'We'd wanted to do something about it from the beginning, but it wasn't until WSDG got involved that we were able to accomplish that change.'
WSDG co-founder John Storyk and Partner/Project Manager Jonathan Bickoff volunteered the firm's resources to create a more controlled acoustic. Using acoustic measurement tools to gauge the reverberation time of the hallways, they designed an solution using vinyl-coated wall treatments and hanging ceiling baffles that complimented the facility's original design to eliminate reflection.
'We were careful to choose materials that wouldn't call attention to themselves,' Bickoff points out. 'That way we could achieve the desired effect of a calm, quiet space while preserving the ambiance and feel of the shelter.'
Once the materials were in place, Meloccaro says the change was instantaneous. 'Suddenly our biggest, most anxious dogs were walking calmly down the hall without fear. The difference was absolutely incredible.
'It's really saving the lives of these dogs because the longer a dog stays in a shelter, the more their temperament can deteriorate if the shelter isn't properly equipped,' she continues. 'We try to do everything in our power to keep them comfortable, and this acoustical correction introduced a real, immediate practical benefit to them. It's impossible for us to express how grateful we are to WSDG for making this possible, it never would have happened without them.'
'Our decades of experience in acoustic design has taught us that the sound of a room can truly have an enormous impact on its inhabitants – be it a major recording studio or a private residence,' Storyk says. 'We always say that sound changes lives, and we're proud that our work has been able to impact and save some of the most vulnerable ones in our care.'
More: www.wsdg.com