A regular annual late-winter event on the Chrisitan live music calendar, TobyMac's 2021 Hits Deep Tour represents one of North America's first arena tours in the wake of the pandemic blackout of 2020. Nashville's Blackhawk Audio, long-time touring sound provider for the Grammy Award-winning artist, used DiGiCo SD10 consoles at both FOH and monitors, plus a smaller SD9 desk at FOH, for 18 arena shows in 13 cities during February and March.
In addition to TobyMac, the tour featured aguests, including Tauren Wells, We Are Messengers, Unspoken, Cochren & Co, and Terrian. All performed each night in an awards-show format, bouncing between the main stage and a B Btage at FOH, with Toby McKeehan and his DiverseCity Band wrapping up as the headliner.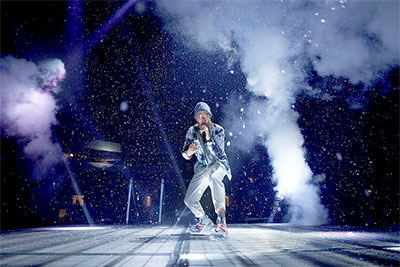 Although the venues' seating capacities varied, FOH engineer Pat Haapanen notes that nearly all of the shows sold out at approximately a third of original capacity, and that every section was open – including behind the stage in some venues. Floor seating was set up in 'pods', with sufficient distance between them, while stands were blocked off.
'Although it was kind of different seeing so many empty seats in the stands and spacing on the floor, the crowd energy was very much business as usual, which was really exciting to experience again,' he says.
Having worked with TobyMac in 2015 as a Blackhawk system engineer, Haapanen has shaped the artist's FOH mix since 2018. 'I started on DiGiCo pretty early when I joined the Blackhawk team, and my first touring experience with Toby was on the SD10,' he recalls. 'Although I had previously mixed on other console brands, DiGiCo is definitely my favourite now, not only for its fantastic sound quality, but also its adaptability and configurability. I've been able to get behind most of the SD line consoles, and have used them on many different types of gigs, from corporate meetings and conferences to award shows, all of which have performed great.'
For the 2021 Hits Deep Tour, Haapanen and monitor engineer Heath Mahon each worked on an SD10 desk at their respective positions, while the SD9 production console at FOH accommodated the B Stage FOH and monitor mixes. 'The SD9 handles all of the pre-show videos/music, emcee, and transition videos,' Haapeanen says. 'We have almost always had something in that role, except in 2017, when we did it all on the two SD10s. Having the extra desk really helps alleviate the workload for the SD10 and allows guest engineers to have their own files and be able to hit a quick line check before they play.'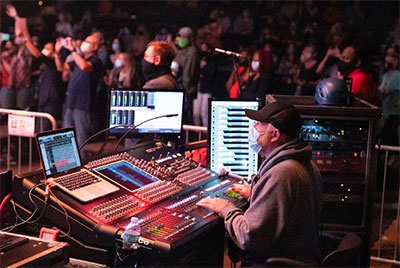 Haapanen checks the SD10's custom layouts, macros, matrix mixer and fibre optics as valuable facilities: 'I really like the way you can lay out the desk in any way that the operator wants, and it's really easy to move things around, which is nice for adapting previous files, or when you change your mind part of the way through a gig.
'I've gotten to lean on macros more and more as well, using them for triggering effects, firing snapshots, and viewing certain banks and plug-ins, as well as fun stuff like brightening and dimming the lights, which is actually pretty handy for outdoor shows. The SD matrix mixer is one of the easiest and most versatile I've used. I use it for routing talkbacks/com to various places, group mixes to PA or rec outputs, and solo bus routing. And the Optocore network is a big plus for us as well – not only for the redundant communication to the tour's three SD-Racks, but also for super-easy console-to-console routing. There are typically a few inputs that Heath and I send back and forth to each other that way.'
Haapanen runs Waves plug-ins alongside TC2290 and Lexicon PCM90 outboard. 'I use onboard channel strip elements on most inputs as the primary, and Waves on some other channels. All ofmy primary delays and reverbs are onboard – the two outboard units are mostly for fun, kind-of-obnoxious-type effects during the show. As far as plug-ins go, I like to use the F6 or C6 on vocals to really dial in with their dynamic EQ and multiband compression. I also use Waves' distortion and doubler plug-ins for vocal effects, as well as the API for bus compression.'
On the other end of the Optocore loop, Monitor engineer Mahon runs 12 sets of stereo IEMs, a stereo side fill mix, and two separate wedge mixes. 'Including Toby, I have nine performers on stage, six instrumentalists, two background singers, and one guest vocalist,' he elaborates. 'The opening acts playing the main stage average about five musicians, and they all love the mixes that monitor engineer Wil Thornton is giving them.'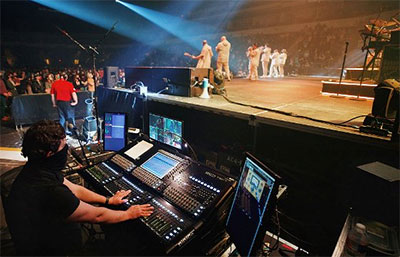 Introduced to DiGiCo via a D5 Live years ago, Mahon has worked with TobyMac for nearly a dozen years, and the SD10 has been his surface choice for more than half of them. 'I'm very active when I mix, and I like having three banks of faders, so smaller-format desks tend to not work as well for me. The SD10 isn't huge, but it gives me everything I need to get my job done well. I'm using a lot of both the Dynamic EQ and Multiband Compressors on many channels. I appreciate both the accessibility and ease of use that having those on the desk give me.'
'I still like to treat my SD10 like it's an analogue console, and having encoders on every channel strip gives me easy access to make changes without having to switch to flip to faders. I make small changes throughout the show and having multiple ways to get around and make changes is very important for me.'
Most nights are recorded for virtual playback, or if anyone needs: 'That's handled in monitor world,' Haapanen says. 'Heath and I are set up on a standalone network just for playback via Waves Tracks Live and two DiGiGrid MGB coaxial Madi interfaces. The tracking computer plays back to both monitors and front of house simultaneously, which is handy and works really well.
'Every year I'm on the SD10, I either discover something new, or something new gets added that I can put into use, which is great,' Haapanen adds. 'This year, I am using the console to fire Midi to my outboard effects, changing presets for me. I've played with having time code fire the first song of the night, so when the track starts, it'll fire that snap and I know the band is ready. It's thoughtful details like that that have made me a dedicated fan of DiGiCo. I can't imagine mixing on anything else.'
Although the 2021 Hits Deep Tour has come to a close, TobyMac is currently on a new leg of Drive-In Theater Tour shows. In June and August, he will playi both one-off shows and festival dates, before another arena and theatre run in October and November.
See also:
EAW's ADAPTive array Hits Deep on TobyMac tour
More: www.blackhawkaudio.com