With its congregation of more than 2,000 people growing, the Eglise Éden Assemblée Dieu church in Abidjan, Ivory Coast undertook a renovation to bring its capacity up to 2,400 worshipers. Is new space has large glass windows, marble work and dark wood pews – a conspiracy of reflective surfaces and architectural detail that comes with acoustical challenges.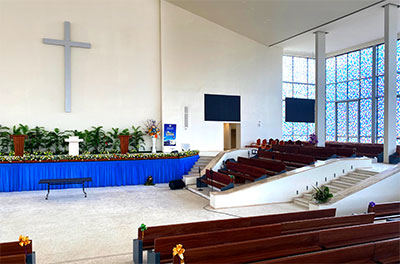 The church, however, was confident it would have sensational sound form the outset, through its choice of a Renkus-Heinz loudspeaker system. 'Normally, you would say this is a very difficult, challenging, and reverberant space,' says Inza Bamba, MD at Protech Distribution, the Ivory Coast A/V integration firm that designed and installed the system. 'But with Renkus-Heinz ICLive X, you know you are going to make every space sound amazing.'
Renkus-Heinz's ICLive X series uses Acoustic Source Multiplier (ASM) waveguide to place the HF section in front of the LF. This coaxial arrangement delivers a consistent and symmetrical array of both high and low frequencies along the length of the array, allowing it to be set up to with any acoustic centre. In addition, the ASM reduces inter-driver spacing, ensuring gradient-lobe free performance to very high frequencies.
The Eglise Éden Assemblée Dieu installation uses a ICLive X module and one ICLive XL module, configured as a single array on each side of the sanctuary. Two ICLX118S-RN subwoofers add sub-bass enhancement to the system. The ICLive X family employs Renkus-Heinz steerable technology, allowing sound to be directed digitally. 'Using digital beam steering we could place the sound exactly where we knew it needed to go,' Bamba says. 'The hall is very wide and nearly 50m long, but with just the left and right arrays we were able to cover the entire church with even SPL distribution without the need for additional delays.'
Bamba used white-finished speakers that are flush mounted to ensure the equipment blends into the space. 'It sounds absolutely amazing and the congregation is beyond happy,' he reports. 'That's a typical result when you use Renkus-Heinz.'
More: www.renkus-heinz.com