Alcons Audio has appointed Blackroom to handle its CRMS home cinema systems in Russia.
Founded by Anton Zadnepryannyy, the Moscow-based company focuses on premium, turnkey home cinema design and installation in Russia and overseas. As well as design and installation, Blackroom manufactures its own acoustic treatment panels, soundproof doors and home cinema recliner chairs. Zadnepryannyy also hosts the only Russian home cinema YouTube channel, which has attracted over 27000 subscribers since 2019.
'My first experience of Alcons pro-ribbon systems was at the Cedia Expo in 2016 and I was overwhelmed with performance of the system,' Zadnepryannyy says. 'I never thought ribbon drivers could be so loud and so clear. Since then I visited every Alcons demo at the Cedia and ISE trade shows.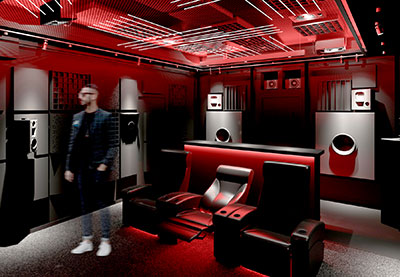 'Each time was better than the last. It became clear that the Alcons CRMS system is something different – it delivers audio quality that my emotions feel, something ultra-lifelike, a new reference for my professional ears. At ISE 2020, I made up my mind to get acquainted with Alcons' co-founder Tom Back and do all I can to bring this experience to our clients in Russia.
'Alcons systems deliver a remarkably lifelike experience, with dynamics that we expect from only the best, purest reproduction. And that is just the beginning,' he continues. 'With the flexibility of the DSP and audiophile-grade class-D amplifier stages, Alcons pro-ribbon systems deliver everything I want for the level of excellence we work at. It's truly next level compared to the regular "compression driver and some professional amplifiers" systems that we are all used to.'
Blackroom has more than 30 installations successfully completed with ten more in progress and also has a high-end demo room with 9.4.6 digital audio under construction.
'In our new demo room we decided to compile the best equipment, acoustic treatments, design and all the other things needed to show what a true home cinema experience should look, sound and feel like, when it's done with cutting edge technology and design expertise,' says Zadnepryannyy. 'And it's all created with the true passion for cinema and the cinematic experience that we live for every day.'
'The announcement of Blackroom becoming Alcons Audio's next Pro-Ribbon Partner for the residential market, is completely in line with the rapidly growing global demand in our CRMS range of sound system solutions for the residential and studio market,' says Tom Back, co-founder of Alcons Audio. 'Since we started in the custom install market a few years ago, we have been establishing a completely new distribution channel in the residential market, besides our cinema, pro-audio and touring channels.
'Our everyday drive is to do things better, continuing the evolution of sound reproduction, honing and fine tuning our solutions, never satisfied with the status-quo. Anton is all about drive and passion and taking his customers and YouTube following to the next level and is as such an ideal partner to bring the Pro-Ribbon Experience to the Russian homes. It's great to share this drive and values based around increasing the customer experience and satisfaction. Our late night E-mail communication with comments and feedback pushes us forward, the praise just shows us we're on the right track.'
More: www.alconsaudio.com