In America's Sunshine State, the open-air concert season is almost perennial – even during a pandemic. Among recent shows held with a socially distanced audience was the Dr Phillips Center's Frontyard Festival, presented by AdventHealth and featuring more than 350 live performances, films and other events.
Staged on the front lawn of the Dr Phillips Center for the Performing Arts in Orlando, with as many as 2,000 guests seated in distanced private boxes spread across the yard, the festival's six-month run called on local sound reinforcement provider OPAV for its L-Acoustics loudspeaker systems.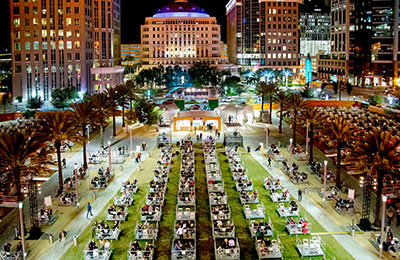 The Mainstage at Seneff Arts Plaza performance area was served by LR hangs of six K2 enclosures, with two KS28 subs groundstacked under each array, plus four Kiva II positioned across the downstage lip for front fill. Two large offstage LED walls each feature six Kara per side to cover the 100m-wide audience area, extending back 85m. Processing and control of the LA12X-powered system was provided by an L-Acoustics P1 and LA Network Manager.
'We love that K2 is full-range from 20KHz down to 60Hz, which is perfect for many of the Frontyard Festival's shows that don't need the 'boom' of a sub, like orchestras with cellos and basses, choirs, plays and movies,' says OPAV CEO, Jesse Durlin, whose company has been an L-Acoustics Rental Network agent since 2017.
'K2's response is really smooth from top to bottom, and it provides great low-end coverage for the whole venue from a single source. Then, when guest rock and pop artists come through, we pair the main arrays with a couple of KS28 subs per side for an even more dynamic experience. K2 is really the perfect rider-friendly system for all types of genres.'
'In the high- and mid-range, there is no loss of quality or sound signature going from the coverage of the K2 to the Kara,' says OPAV Project Manager, Tyler Higdon. 'Additionally, the K2 low end blends amazingly well with the Kara-covered areas. The system has great throw and enables us to give every seating pod in the house a full-range sound experience without the need for delays.'
The centre's team at was familiar with K2, having heard the system previously with productions visiting the Walt Disney Theater, so they were immediately onboard with OPAV's recommendation to use K2 for the Frontyard Festival.
'Given the broad range of programming, genres presented, and downtown outdoor noise challenges, the system had to be capable of overcoming acoustic obstacles while presenting the highest quality sound to match the experience of our indoor theatre performances,' says Dr Phillips Center Executive VP of Operations, Spencer Tong. 'We host an extremely broad range of performances, including classical, jazz, rock, opera, country, trance fusion, reggae, comedy, films, dance, community arts, folk and many more art forms. K2 has been remarkable for them all, and has exceeded our expectations. We've heard numerous accolades on the quality of the sound experience, with guests commenting on how amazing this system performs for an outdoor venue. And during performances, many patrons have stopped by the sound mix position and given their compliments to the engineers.'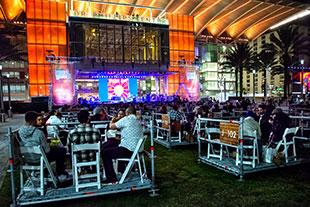 With the PA remaining in place from early December through May, one of the keys to the system's success has been the L-Acoustics AVB processor and measurement platform. 'P1 has been one of the biggest assets in our deployment,' confirms Higdon, who has been onsite with OPAV Audio Engineers Justin Avant and Colten Mortensen for much of the event. 'We're using P1 for main system control, and it has been very helpful in keeping the rig sounding the same every day by compensating for changes in temperature and humidity.'
'It has also given us the ability to meet the requirements of "drive lines" locations without having to do any physical patching, while seamlessly allowing us to change over from the video trailer feed for walk-in to the FOH engineer for the show. The matrix of the P1 allows us to drive the amps, supply video trailer audio, record feeds and assisted listening systems for the venue, all while letting the engineer only worry about mixing the show and supplying either a left/right/fill/sub or just a left/right signal. And LA Network Manager allows us to fine-tune the overall system for each guest engineer each night, and, with the load of a file, restore the system to the original great-sounding tuned system.'
Tong reports that the festival has been a 'win' for all involved, thanks in large part to OPAV and its L-Acoustics system. 'OPAV has been instrumental and critical to the success of the festival,' he confirms. 'From the very first meeting when our teams presented our "big idea", Jesse Durlin and his team have been there for us.'
More: www.op-av.com