With a Dante audio network extending over 15km of fibre-optic cable at the 2021 Diriyah E-Prix in Saudi Arabia, Neutrik opticalCON Duo connectors had a further opportunity to prove their dependability.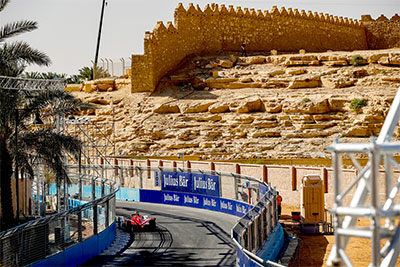 'Connectivity solutions of the quality and ruggedness of Neutrik's opticalCON range are an essential element in providing the technological advantages of AoIP fibre-optic networking solutions,' says MediaPro AV International Chief Operating Officer, Shaam Pudaruth.
The site-wide audio, video, lighting and rigging infrastructure supplied and operated by Dubai-based MediaPro included its entire Middle East based stock of L-Acoustics loudspeaker systems – including K1, K2, Kara, 112P, 5XT, X8, X15, KS28, SB18 and 20 LA-Rak II – as well as 13 Yamaha QL and CL mixing consoles with D2 racks, and 15 of the company's own network racks used to connect all of the various audio zones to a network that also included a complete redundant Dante network.
In addition to the extensive audio network, MediaPro also met radio mic requirements with Shure Axient systems, video screen and signal requirements of the site using 78 CD screens, radio and Clearcom wireless communications, SFX, trussing and rigging and lighting solutions for general grandstand, pedestrian bridges, entrance gates, and branding areas around the track.