Based on a story by JK Rowling, Jack Thorne and John Tiffany, Harry Potter and the Cursed Child has productions ongoing in Melbourne, San Francisco and Hamburg, with and future productions announced for Toronto, and Tokyo. The eighth story in the Harry Potter series, is it the first to be presented on stage.
It fell to sound designer Gareth Fry to cast a spell over the audience.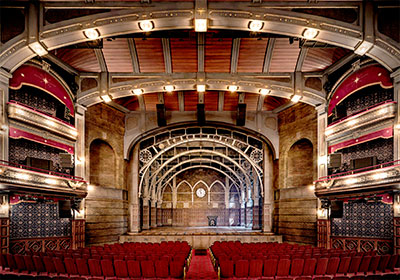 'There's a big responsibility when you're working with such iconic characters and stories; the audience has a strong, emotional attachment to what's happening on stage,' he says. 'With such an invested audience, we're under pressure to produce the best show we can. There are big, epic scenes with lots of characters, and then there are also very quiet scenes where it's just two people talking – we need to make sure every seat in the house hears everything perfectly.'
Director John Tiffany demanded that the sound quality be exceptional and that every production in each location have the same level of quality as the original London West End production – or better. Fry's response was to specify a d&b loudspeaker system.
'There are a lot of illusions in the show, and magic often requires support from sound and lighting and costume and props – it's a very multidisciplinary thing to make these illusions seem magical,' Fry says. 'All of the magic is done live in front of the audience, and good sound is absolutely key to making sure the illusion works for every audience in every venue.'
d&b's ArrayCalc simulation software was key component to sound system design for the shows, allowing acoustic design, performance prediction, alignment, rigging, and safety parameters for specific venues to be modelled. 'ArrayCalc was a critical part of our choosing d&b systems – it allowed us to predict in advance what a theatre will sound like,' Fry confirms. 'The software has also been very useful in terms of working with other production departments and negotiating speaker positions and other logistic concerns.'
A d&b Y-Series sound system was primarily used in the London, New York, Melbourne and San Francisco productions, using a mix of line-array and point source elements, supplemented with E-Series cabinets for fill. d&b's V-Series was also used in some venues where a longer throw was required.
The Y-Series combines broadband directivity control with extended low-frequency performance in a compact, unobtrusive design. Featuring rotatable horns, the Y7P and Y10P point source loudspeakers offer horizontal dispersion angles of 75° and 110° respectively and ensure horizontal directivity control down to 500Hz – beneficial especially in reverberant or acoustically challenging environments.
The passive V-Series V8 and V12 line array loudspeakers provide 80° and 120° horizontal dispersion, respectively, maintained down to 250Hz. The V-Series point source loudspeaker is a single-box solution for application where sightlines, weight, or amplifier channel requirements dictate that a small line array isn't appropriate.
'I've been using d&b for years, so I have a lot of confidence in their systems.' Fry says. 'They always sound great, and have a compact footprint which makes them easy to place, so the whole system sounds better because the speakers can be in better positions to deliver the quality and power we need.'
Since opening, Harry Potter and the Cursed Child has become the most awarded West End play in the history of the Olivier Awards, winning nine awards including Best New Play, Best Director and Best Sound Design in 2017. It also received multiple Tony Awards, including Best Sound Design, for the Broadway production in New York.
'The show has been incredibly well received by audience members and critics alike, so we couldn't be happier,' Fry adds. 'd&b stands behind their products, and they have been great to work with. We were able to do some demos of the Y- and V-series, and they were great in helping us select exactly the right product for the job. Their support has been amazing, and I look forward to more productions with d&b.'
More: www.dbaudio.com