A logistical tour de force, television production for Formula 1 travels the world, arriving at meets in advance of the racing circus to be ready for use throughout the weekend's event. To meet these demands, NEP Germany has adopted a new container-based approach to the transmission of signals from the pit lane and interviews.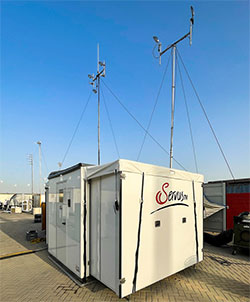 Holding the rights to broadcast Formula 1 from the 2021 season onward, broadcaster Servus TV is working with NEP Germany as a production service provider to the Austrian network. The extendable airfreight container houses a mobile production studio that NEP has developed with Broadcast Solutions. Interacting with additional airfreight containers that function as 'set-up vehicles', they are constantly travelling the world during the Formula 1 season.
This 'Pod' is primarily used to produce interviews and expert talks, which are captured by two wireless camera teams and an EB team around the track or in the pit lane. In the smallest possible space, it accommodates all the essential technical components used for TV production from an OB van.
'Because of the excessive travelling involved in the production of Formula 1, we needed a highly mobile, transportable solution that could provide all the technology for our productions in the smallest possible space and still make it comfortable to work in,' says NEP Germany Technical Director, Mark Overkamp. 'Together with Broadcast Solutions, in the Pod we have developed a solution that, in combination with a sophisticated stagebox concept, optimally supports us in the current productions but also leaves options open for the future.'
Using two extensions, the Pod can be enlarged from 7.5m2 to 14m2, and offers space for four workstations – an audio engineer, video engineer and two editorial staff – including a central (2x 38U-high) technical rack. The Pod is used to monitor the video and audio signals of the camera teams working on the production, as well as to control intercom signals and Motorola radio links. During the productions, the audio and video signals are transmitted directly from the racetrack via dark fibre to the Servus TV broadcasting centre in Salzburg, where the PGM signal is being created. The in-ear monitoring of the presenters, reporters and camera teams is managed in the POD to avoid audio delays.
The Pod and the Wisycom transmitters that support the wireless network around the track work with Dante digital audio, with intercom signals processed in AES67, and further analogue audio signals are coming from the Office Containers. To ensure smooth conversion, several Prodigy multi-format converters from DirectOut, housed in stageboxes, convert analogue audio and AES67 to Dante and vice versa. A Yamaha QL1 digital audio console with Dante integration is used to mix the signals in the Pod itself. Inside the Pod, a Riedel MicroN acts as main router. Control of the audio and video signals is achieved using Broadcast Solutions hi human control system.
The system passed its first baptism of fire on in March at the Bahrain Grand Prix.